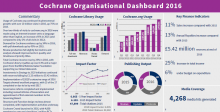 2016 Dashboard is keeping us on track for 2017
Cochrane's Annual Dashboard presents some key metrics on our organizational performance over the previous calendar year. It includes data on Strategy to 2020 target achievements, and key metrics around the four Strategy to 2020 Goals. It's an excellent tool to use to reflect on what we accomplished in 2016 and the work to be done in 2017.
Read more about Annual and Quarterly Dashboards.
March 31, 2017