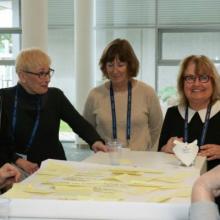 Consultation on the draft document "Consumer involvement in Cochrane: developing the Statement of Principles" 
Closing date for feedback: 31 December 2016
Dear colleagues,
During 2015, the Cochrane Consumer Network undertook its Structure and Function Review, examining key elements about consumer involvement in Cochrane, and the ways in which it is supported. The report from this review is available online; amongst other things, the review showed that the ways in which consumers are currently involved in Cochrane varies significantly across the organization. For example, the review found that there is:
little consensus about the best way to involve consumers in Cochrane activities;
no consistent approach to the way Review Groups, Fields, and authors involve consumers in the review process;
lack of support for authors, Review Groups and others in the form of guidance, resources, and tools for working with consumers;
wide variation in the amount of resources available for those who involve consumers in reviews;
difficulty in demonstrating the impact and value of consumer involvement.
To address these concerns, in 2016 the Consumer Network Executive prepared the Consumer Delivery Plan to 2020. The plan sets out eight key priorities for the development of consumer involvement in Cochrane. The first priority is to "Develop and adopt a statement of principles about consumer involvement in Cochrane": a shared agreement on the consumer role and how the whole organization can work with consumers will make our work clearer, reduce variations and uncertainty, and improve our effectiveness. It will also explain to our external partners how we include consumers in our work.
A task group comprising consumers, authors, and others has drafted the statement and will steer the consultation process, refine the statement in line with responses, and present the final draft to the Consumers Executive and Cochrane Steering Group.
Consultation and next steps
Comments on this draft Statement of Principles document are warmly invited from anyone with an interest in consumer involvement in Cochrane: consumers (patients, care givers, family members, people who support patient and public involvement in research, and citizens generally), review authors, members of Cochrane Review Groups, Fields, Centres and Branches, Cochrane staff, and Cochrane's external partners, funders, and those who use Cochrane evidence.
Please submit your feedback and comments via our online survey until the closing date of 31 December 2016.
You can also join the conversation on Facebook and on Twitter by searching for @cochraneconsumr.
If you are attending the 2016 Cochrane Colloquium in Seoul, please come and join the discussion about this statement.
The final draft 'Statement of Principles' will be presented to the Cochrane Board, and will guide future consumer involvement in Cochrane and in particular the Cochrane Consumer Delivery Plan to 2020 and beyond.
If you have any other questions about the statement, please email Richard Morley.
Best wishes

Richard Morley
Consumer Coordinator
December 8, 2016