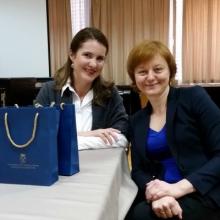 The University of Split School of Medicine, in Split, Croatia, had the pleasure of hosting Cochrane Poland's director, Malgorzata Bala, from 6th to 9th March, 2017, during her visit to Cochrane Croatia. Given Croatia and Poland's similar health and education systems, cultural background and Cochrane group setting (both are based at a medical school), it was felt that a visit would be mutually beneficial and contribute towards future progress and collaboration.
During her visit to Split, Dr Bala met with several members of Cochrane Croatia and attended a regular monthly meeting, where she shared her knowledge of conducting systematic reviews of non-controlled studies and her experience in involving medical students in the conduct of Cochrane Systematic Reviews. While at the medical school, Malgorzata gave a well attended presentation to staff on 'Evidence based health care – achievements and challenges in Poland'.
Dr Małgorzata Bała is head of Cochrane Poland, established in 2015 as a Branch of the Nordic Cochrane Centre, and head of the Department of Hygiene and Dietetics at the Jagiellonian University Medical College in Krakow, Poland. She is a specialist in public health and epidemiology and since 2005 has been teaching EBM to students. Dr Małgorzata Bała has been involved in Cochrane activities since 2000 and is an author and co-author of several Cochrane reviews.
Cochrane Croatia and Cochrane Poland will explore the possibility of organising study visits, both for students and staff, via ERASMUS, and, in the meantime, agreed for two students from the Medical College in Krakow to present at the upcoming 9th Croatian Cochrane Symposium, on the topic of 'Evidence  based dental medicine', to be held from 9th-10th June at the University of Split School of Medicine.
Irena Zakarija-Grković, Co-Director Cochrane Croatia
May 3, 2017