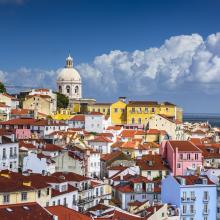 The 2018 Cochrane Governance Meetings will be hosted by Cochrane Portugal in Lisbon 19-23 March.
Venue
Tivoli Oriente Hotel
Av. D. João II, n.º 27
Parque das Nações
1990-083 Lisboa
Portugal
Find out more about Lisbon by following these links:
Programme
Attached is the programme. (Updated: 21 December)
Registration
Please fill in the registration form: community.cochrane.org/form/lisbon-registration-form
Registration deadline: Sunday 4 March 2018
Governance Meetings are free to attend, but registration is needed to confirm meeting numbers and special requirements.
Hotel information
Parque das Nações hotels:
Tivoli Oriente
Booking deal: Book a standard double (between 17-25 March) for €125
Promo code: CochraneGM18
Deadline: 19/01/18
Olissippo Oriente
Booking deal: Single €110 / Double €120, from 17/03/18 to 25/03/18
Deadline: 26/01/18
Booking form
Hotel Tryp Oriente
Booking deal: Single €161 / Double €172
Deadline: 27/12/17
Promo code: Cochrane Lisboa 2018
Vip Executive Art
Booking deal: Single € 72 / Double €82, from 17/03/18 to 25/03/18
Deadline: 05/01/18
Booking form
Avenidas Novas hotels:
Olissippo Saldanha
Booking deal: Single €100 / Double €110, from 17/03/18 to 25/03/18
Deadline: 26/01/18
Booking form
Turim Iberia Hotel
Booking deal: 10% discount
Promo code: COCHRANE
Turim Europa Hotel
Booking deal: 10% discount
Promo code: COCHRANE
Turim Saldanha Hotel
Booking deal: 10% discount
Promo code: COCHRANE
Turim Avenida da Liberdade
Booking deal: 10% discount
Promo code: COCHRANE
Travel information
Restaurant recommendations
The restaurants listed are recommended for group bookings:
Parque das Nações restaurants:
RESTAURANTE D' BACALHAU
Rua da Pimenta, nº45 - Parque das Nações
1990-254 LISBOA
T: +351 218 941 296
F: +351 218 941 298
E: henriquegaf@gmail.com
W: www.restaurantebacalhau.com
CAPRICCIOSA D.O.C PIZZARIA
Passeio das Tágides, Lt. 2.26.01
Parque das Nações
1990-280 LISBOA
T: +351 218 922 595
F: +351 218 922 595
E: capriexpo@mail.telepac.pt
W: www.grupodocadesanto.com.pt
IRISH.CO
Rua da Pimenta, nº57 – Parque das Nações
1990-280 LISBOA
T: +351 218 940 558
F: +351 218 940 560
E: expoirish@grupods.pt
W: www.grupodocadesanto.com.pt
PIZZERIA ZEROZERO (PARQUE DAS NAÇÕES)
Alameda dos Oceanos, Lt. 2.11.01H
1990 – 225 PARQUE DAS NAÇÕES
E: zerozero@pizzeriazerozero.pt
W: www.pizzeriazerozero.pt
REPÚBLICA DA CERVEJA
Passeio das Tágides, lote 2.26.01
Parque das Nações
1990-280 LISBOA
T: +351 218 922 590
F: +351 213 942 419
E: republica.cerveja@mail.telepac.pt
W: www.grupodocadesanto.com.pt
Other suggestions:
If you would like help making a restaurant reservation, please contact Ema Roque at ema.roque@medicina.ulisboa.pt
Questions
Contact Holly Millward, Cochrane's Events Support Officer at hmillward@cochrane.org
December 5, 2017