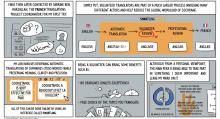 Since joining the French volunteer translation project last year, Martin Vuillème has made it a priority to regularly translate Cochrane abstracts and plain language summaries. After sharing his experience as a Cochrane volunteer translator with us in comic strip format, we invited him to write a blog post to tell his story. Here he explains the inspiration behind his comic strip, why translating Cochrane evidence into French is so important, and what he has learned along the way.
How did you end up translating for Cochrane?
I first heard about Cochrane while studying nursing at the University of Applied Sciences and Arts of Western Switzerland (HES-SO) in 2014. Cochrane was introduced as one of many databases where we could find health information. I still have vivid memories of how the classroom got confused trying to pronounce its name (which sounds like "rooster-queen" in French) and had to repeat it a couple times to get it "right". I can safely say the results weren't very conclusive.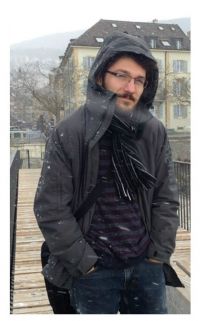 As my interest in research grew over the years, so did my understanding of what Cochrane was about, its members, goals, and what made it slightly different from other organizations to me.  I thought it was a good fit with my values and found out that volunteers could help translate reviews. Soon afterwards I became a member of the French volunteer translation team and started contributing.

I remain surprised to see how few people outside of the medical and health professions seem to know about Cochrane in Switzerland - I would love to see this change!

How does it feel to translate reviews?
When I started translating Cochrane Reviews I kept wondering if I was really qualified and competent enough for the task; I feared making mistakes with far-ranging consequences, like placing a comma on the wrong place and potentially breaking reviews!

As I translated more and more abstracts at my own pace, got to know more about the translation process, as time went on (with positive feedback from Sabrine, the coordinator of the French translation project), my confidence increased and I gradually felt less and less nervous about it. Meeting some kind fellow Cochrane translators and staff in Paris also helped me get a different perspective about what we did and what kind of people I was working with.

It has now been over 7 months and translating reviews with a hot cup of tea is part of my weekly routine. I know mistakes can still happen and I do my best to avoid them, but they are no longer a source of anxiety; translations have become a way to feel involved in the dissemination process of scientific research and I feel honored to be able to help. I see each translation as a successful step towards wider access to reliable health information for all French readers.

What are the fun parts of translating?
Yes, translating can be fun; who knew? Although I agree that what is fun will vary depending on individual preferences.
I like it when automatic translations get it wrong; when I have to start with clumsy or outlandish translations suggesting we "inject people with the night" or prepare for "people diagnosed with an action plan", they remind me that translators and reviewers are still very much needed, at least until machine-learning and artificial intelligence get better.
I also like spending time trying to find out the right balance between understandable-yet-not-too-technical-while-still-correct and oversimplified-and-actually-misleading, as in a game of hide-and-seek with words and sentences. I never stop being surprised and challenged when translating!

Why did you make a comic about your experience as a volunteer translator?
I have been drawing for as long as I can remember and this is probably my favorite way of communicating with others. I love the versatility of art to convey complex ideas, concepts, feelings and share points of view or experiences. While text can go a long way, I see pictures and illustrations as an underused extra tool to complement it.

I wanted to share my interest about Cochrane reviews and translations in my own way and it felt natural to me to make it into a comic. I see it as a tribute to those working behind the scenes and to something I felt strongly about.



Click the comic to see the full image and zoom in
What else do you draw about?
I also publish drawings on The Science of Cookies, which is an online French-English comic about the health and social sciences, research, news and cookies (yes, cookies!). Research felt very remote, unreachable, and bland during my studies and I wanted to show that it doesn't have to be that way. I am confident that it can be made more interesting, appealing, and even fun when seen from a (slightly) different perspective!

Who could get involved with Cochrane?
If you have some free time, some kind of background in health care and you understand both English and another language, you are welcome to apply as a volunteer translator! But translating reviews is only one way to help; you could also help with podcasts, blogshots, support the identification some types of studies on Cochrane Crowds, update Wikipedia... or even perhaps make a comic about what you do? The easiest way to know how you can help is to ask and tell about your skills or look around at what others have already done!

What did this experience bring you?
I have come to personally understand that Cochrane is not only an organization, but also a community made of very unique individuals with a passion for health and reliable knowledge, and an open-mind to new ideas. I have also learnt to translate diligently, yet to trust the next reviewers to do their best at what they do. I believe that sometimes, all you have to do to end up doing something you find meaningful is to ask the right person!

Finally, I would like to specifically thank Sabrine Ben Harzallah for her curiosity, great patience with my questions (more incoming!), and all the initiatives she has taken, many of which I might not even know about. I am also profoundly thankful to all those that have helped me during those 7 months! Thank you!
Find out more about volunteer translation

Le processus de traduction en français
February 13, 2017