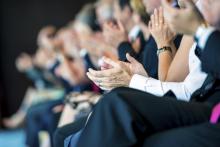 Registration for early bird tickets open until 30 June 2017
Registration has now opened for the first ever Global Evidence Summit! Register before the 30 June 2017 to get over 11% off the standard ticket price. 
This year, Cochrane, has joined with four other leading organizations – Guidelines International Network, Campbell Collaboration, International Society for Evidence-based Health Care, and Joanna Briggs Institute - to hold the first 'Global Evidence Summit' in Cape Town, South Africa from 13-16 September 2017.
Find out more at globalevidencesummit.org/registration-fees
Stipend applications open until 28 April 2017
The Global Evidence Summit have also launched a number of stipend and bursaries to help consumers, students, and other attendees based in developing countries to attend.
Find out if you are eligible to apply for one of the stipends or bursaries available. Cochrane are providing the annual consumer and developing country stipends. But the organisers have also received further funding to support delegates from a LMIC setting including policy makers and researchers as well as African-based students. Follow the link to find out whether you are eligible and how to apply. The deadline for Cochrane and Global Evidence Summit stipends is the 28 April 2017.
Find out more at globalevidencesummit.org/stipends-and-bursaries
Email: mailto:contact@globalevidencesummit.org
Twitter: @GESummit
Facebook: facebook.com/globalevidencesummit
Hashtag: #GESummit17
March 8, 2017