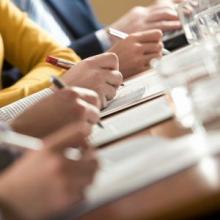 Dario Sambunjak and Chris Watts have been working with Cochrane's Learning and Support team (L&SD) as Learning & Support Officers since May 2015. In this post they share information about a new training resource that L&SD has recently developed, working closely with the Cochrane Editorial Unit (CEU), to help Cochrane Editors avoid common errors when working to prepare Cochrane Reviews.
What is the Common Errors training resource?
Common Errors is a suite of five learning modules for Cochrane Editors to enhance their editorial skills. The modules are designed to help Editors learn to recognize and address common errors and good practice, using examples that the Cochrane Editorial Unit has identified through its ongoing review screening programme.
The resource includes five modules:
Inconsistency and inaccuracy
GRADE and interpretation of findings
Interpretation of statistical results
Summary versions of a review
Check your knowledge (an exercise module)
Who is this training for?
This training will be most useful for people who are most involved in editing Cochrane Reviews, or who work with editors – for example, editors working with Cochrane Review Group (CRG) editorial teams, as well as CRG Managing Editors and Co-ordinating Editors. Cochrane authors may also find this training useful, especially if they are involved with multiple Cochrane Reviews.
When is this training available?
This is a self-training resource, so people interested in learning more about identifying and avoiding common errors can access the resource whenever it is convenient to do so. The learning suite is modular in design, so learners are able to select the learning that they consider most appropriate to their needs, whether they are after some 'core' training or want to refresh their knowledge on a particular area.
Modules take a 'learn by doing' approach and replicate the editorial process. Learners examine worked examples of common errors as well as good practice, and are also offered tools, tips, and learning about key issues throughout.
Why should I think about doing this training?
If you spend significant time editing Cochrane Reviews, this training will help you to better understand how to find, and avoid, errors that happen consistently. It will help you to improve your knowledge of good practice in Cochrane Review production, and to improve the quality of your own and others' Cochrane Reviews.
How can I sign up for this training?
This training is freely available on the Cochrane Training website; just go to Common Errors: a resource for Cochrane Editors and start where and when you choose.
What if I have more questions?
Contact the learning team at training@cochrane.org
March 10, 2017