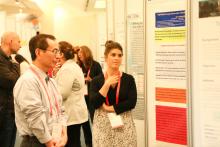 Every year Cochrane recognizes the outstanding work of Thomas C Chalmers, famous for his role in the development of the randomized controlled trial and meta-analysis in medical research. Thomas is perhaps best known for the notion 'randomize the first patient', his belief that it is more ethical to randomize patients than to treat them in the absence of good evidence.
To acknowledge Tom's work, Cochrane gives an annual award at its Colloquium to the principal author of both the best oral and the best poster presentation addressing methodological issues related to systematic reviews given by an early career investigator. The presentations must demonstrate originality of thought, high quality science, relevance to the advancement of the science of systematic reviews and clarity of presentation.
2016's winner of the Thomas Chalmers Award for the best poster presentation is Juan Franco. Juan is a family physician at the Hospital Italiano de Buenos Aires.  He's currently doing a Master's Degree in Clinical Effectiveness and is actively involved with the Argentine Cochrane Center at the Instituto Universitario Hospital Italiano.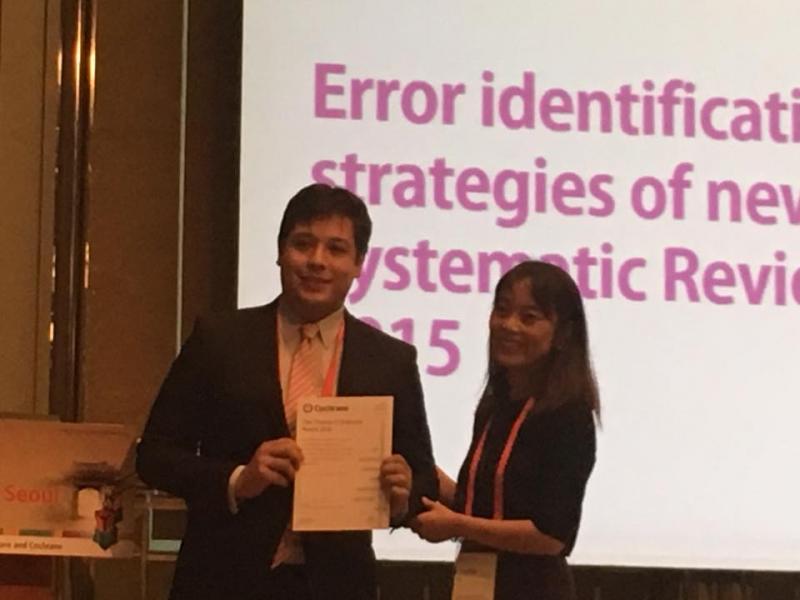 He wanted to share with us a little more about his work, and what made him decide to enter for this prestigious Cochrane award:
As a medical student, I was introduced to Evidence Based Medicine through Cochrane Reviews.  I continue to use them in my training as a Family Physician and I decided to become involved in their development when I finished my residency programme.  I knew about Thomas Chalmers from the introductory texts of Evidence Based Medicine and I found out about the Award when I signed up for my first attendance to the Colloquium.
 Can you tell us a little more about what made you decide to enter for the award and the process involved?
I hesitated in signing up.  I thought that since it's my first Colloquium attendance, it could be somewhat presumptuous of me. However, I noticed that this award was targeted to early career investigators and I thought that the work and effort that our team had put up with this research deserved at least the application. It was my first Colloquium, my first contribution for Cochrane and my presentation was in English, which is not my first language.  I hadn't heard of any other Latin American researcher who had won this award.
And, you won! Many congratulations –what does this award mean you, personally?
I feel very honored.  For me it's an incredible vote of confidence for me and for my group at the University.  Being a family physician and being only recently involved in Cochrane, this reward renewed my enthusiasm to the whole experience at a Cochrane Colloquium.
What's been the impact to you, and your work, winning the Award?
I received very constructive feedback after my presentation that will allow me to improve the manuscript subject to publication.  The academic staff and chancellor at the University were thrilled.  Time and resources are limited to those involved in this type of research in our country and this award allowed us to gain local visibility.  Additionally, it made our team more confidence in addressing research on methods.  We are already thinking in several projects in this area.
Firstly, I would like to publish our research.  Secondly, I would like to jumpstart some projects we have on "research on research".  If we work hard I think we'll be able to present some results at the Iberoamerican Meeting,  and the Global Evidence Summit.  It would make me proud to be able to consolidate our working group and our Iberoamerican Network.
What would be your message to other colleagues, Cochrane collaborators, who are considering entering for this particular award this year? Any advice for their entry?
I think that if you fulfill the entry criteria you should sign up, with no hesitation! I would tell them to try their best at their presentation and seize all the great feedback they'll receive. I saw incredible presentations from young researchers who could have easily won, too.  I think it's a good tradition for Cochrane in a way they can highlight some of the valuable research presented, and as I said before, renew the enthusiasm it inspires.
Submit an entry for the 2017 Thomas Chalmers Award or find out more about the eligibility criteria.
March 9, 2017