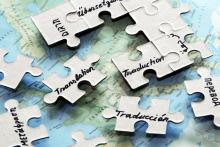 Cochrane Malaysia has just issued certificates of recognition to reward five translators and editors for their outstanding contribution to the Malay translation project in 2016. Dr. Teguh Haryo Sasongko, project manager of the Malay translation project, explains how annual certificates are motivating their volunteers.
Could you tell us more about your project?
Cochrane Malaysia has been making Plain Language Summaries accessible in the Malay language for the last 2 years, an initiative that would have been impossible without the generous help of translators and editors who are working on a voluntary basis. To thank volunteers for their work, we decided to create certificates to recognize translators and editors on an annual basis.
What are the criteria for receiving a certificate?
There are 3 categories of recognition:
Bronze is awarded for completing or editing 20 translations
Silver is awarded for completing or editing 35 translations
Gold is awarded for completing or editing 50 translations
Editors and Translators receive separate recognition. We have just recognised work completed between 1 January and 31 December 2016.
Who are the recipients of certificates for 2016?
They come from various medical and health institutions and universities in Malaysia and abroad. They are students, nurses, midwives, medical experts and other healthcare professionals who have generously contributed their precious time for this work. The recipients:
1. Professor Dr. Noorliza Mastura Ismail, a Professor of Dentistry at Melaka Manipal Medical College received a Gold Translator certificate and Silver Editor certificate. She describes Cochrane translation work as "invigorating."

2. Dr. Tan May Loong, Cochrane author and Paediatrician and Senior Lecturer at Penang Medical College, recognized with a Gold Editor award. She said: "Since I started volunteering in the Malay Translation project, I find myself reading more reviews, even though most are plain language summaries and this has truly enriched me."

3. Ms. Foo Sook Lee from Penang Medical College received a Gold Translator certificate.
Ms. Foo Sook Lee has been with the Ministry of Health for 29 years; a nurse for 12 years and a nurse educator for 17 years. She then joined Penang Medical College from 2013 until January 2017. She is now actively involved in social work with Alzheimer's Disease Foundation Malaysia as a national trainer.

4. Associate Professor Dr. Norhayati Mohd Noor, Community Medicine Specialist (family health) from Universiti Sains Malaysia, awarded with a Silver Editor certificate. Dr. Noor said: "Volunteering in the Malay Translation Project has broadened my knowledge in other fields in Medicine."

5. Dr. Tuan Hairulnizam, emergency physician and a Senior Lecturer at Universiti Sains Malaysia, also received a Silver Editor certificate. He said: "I enjoy doing editing and translation work for Cochrane and hope it benefits the readers."

What has been the reaction to the certificates?
We announced the news via our mailing list and Facebook page and we will soon publish it on the Cochrane Malaysia website. The announcement has been responded to in a positive manner, with the recognition encouraging more contributions to the project.
March 3, 2017