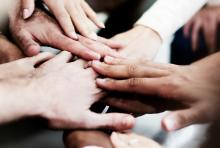 In preparation for the Cochrane Board meeting in April in Geneva, we have prepared an update paper to inform the Cochrane community about work with our external partners. Some of the key developments to note:
The planning for the Global Evidence Summit is progressing well and provides an opportunity to connect many of our external partners: sessions are being planned with various groups at WHO, G-I-N, Campbell, JBI, and consumer organizations.
MoUs have been signed with Epistemonikos, G-I-N, and MAGIC, and with the March for Science.
The work on the Partnership Toolkit, an online resource for Cochrane Groups to use for their own partnership development, will evolve alongside the Knowledge Translation Strategy, to ensure that they are connected and complementary; the next phase is scheduled to start following the Mid-Year Meeting in Geneva.
The annex in the paper provides a detailed overview per partner, also specifying the plans for the coming months. For further information please contact Sylvia De Haan, Partnerships Coordinator.
March 8, 2017