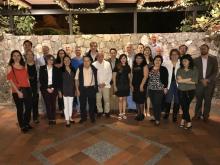 The XVI Annual Meeting of the Cochrane Iberoamerican Network was held in Medellín on 5-7 June 2017. The event was organized by the Associate Centre University of Antioquia and coordinated by Hector Ivan García, director of this Associate Centre, and Xavier Bonfill, director of the Cochrane Iberoamerican Network.

Besides presenting interesting conferences and workshops related to evidence-based health care and clinical synthesis research in the region, the director of the Cochrane Iberoamerican Network discussed the activities currently under way across the different countries, and shared several future projects.

Attending this event were representatives of the Cochrane Editorial Unit, Karla Soares and Sera Tort. Their attendance enabled the discussion about common issues of Cochrane systematic review production and the main future challenges in this field.
Congratulations to Cochrane Iberoamerican Network for another great Annual Meeting!
July 5, 2017