This page lists resources developed by the Cochrane Editorial Resources Committee (ERC) and explains how the resources are developed.
About the Editorial Resources Committee (ERC)
The ERC aims to support Cochrane Review Groups (CRGs) by providing useful resources to support their work, including information packs, forms and checklists.
Process for developing a new resource
Before developing a resource, the ERC tries to ensure that appropriate consideration is given to good practice, implementation and impact, by completing a document development plan. The resources are then developed by one or two members of the ERC, they go through consultation with the relevant constituencies within Cochrane, they are user tested, and they are signed off by the Cochrane Editorial Unit. Each resource can take several days or more of work to complete. Cochrane resources are designed to be comprehensive and facilitate continuity across the Cochrane groups, while recognising that people all work slightly differently. Cochrane groups are free to modify the documents as they see appropriate.
ERC resource development process: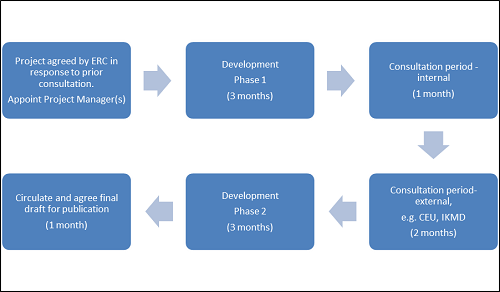 The timeline will be adjusted according to complexity of individual projects.
Membership of the ERC
The ERC meets three or four times a year and is made up of managing editors, trial search co-ordinators, CEU staff, and IKMD staff.
Anna Erskine (Co-convenor; ME)
John Hilton (Co-convenor; CEU)
Ciprian Jauca (ME)
Jani Ruotsalainen (ME)
Paul Good (DTA group)
Ruth Brassington (ME)
Deirdre Beecher (TSC)
Clare Dooley (AME)
Jacob Riis (IKMD)
Monaz Mehta (CEU)
Editorial resources
All the documents listed on this page are Word documents unless indicated otherwise.
Approved editorial resources for Cochrane Review Groups
Copy-editing checklists
The use of the copy-editing checklists is encouraged. The Cochrane Editorial Unit (CEU) and Copy Editing Support are consulting with relevant groups about whether their use should become mandatory.
Resources in development
The ERC had reduced its activities in 2013, but at September 2014 has now re-formed in response to new requests from ME Exec, CEU, and individual CRGs. We are currently working on several projects, as follows:
Forms for Diagnostic Test Accuracy reviews
Electronic online forms
Methods for collating peer review comments
This list is not exhaustive, and will be regularly updated.
ERC survey
In November 2011, a survey was sent to all Cochrane entities to assess the value of the resources developed by the ERC. The survey had a very high response rate. Most Cochrane entities were aware of the ERC, and most respondents were using one or more of the ERC resources. In general the resources were very well received, and Cochrane entities have been adapting the resources for their own needs. Criticisms of the resources and the ERC were that the resources were too long, the process to develop the resources was too long, and some resources need to be updated to reflect the Methodological Expectations of Cochrane Intervention Reviews (MECIR). Many suggestions for new resources and improvements to existing resources and processes were made. All respondents thought that the work of the ERC should continue, and nearly half of respondents thought that the ERC should continue to function as it does currently.
As a result of the survey, the ERC will to continue to develop and update resources, and will take into account the MECIR reporting standards when they are available. The ERC is also considering criticisms and suggestions for improvements to editorial resources and processes, and will prioritise suggestions for new editorial resources and adaptations to existing resources. The full report for the ERC survey can be accessed here.
What's new?
September 2015: Review proposal and peer review forms for overviews
August 2015: Template/standard wording for email correspondence with authors or other review groups
21 May 2014 Updated and corrected links and minor changes to formatting in some resources
18 March 2014 updated links in review proposal form
19 November 2013 new peer referee form for reviews and updated peer referee form for protocols
10 June 2013 Updated copy-editor's checklist to correct an error in section 2.8.11
4 June 2013 The consumer checklists were signed off after a six-month consultation period. Specific suggestions for improvements are still welcome - see below for how to contact us
22 May 2013 review proposal form intervention reviews and DTA reviews now include request for translators, updated broken link to Archie information policy
20 Jan 2013 Updated Author pre-submission checklists, review proposal forms, standard email for new review authors and data collection forms to reflect the MECIR standards. Changed the name of the 'title registration form' to 'review proposal form'
29 Oct 2012 New consumer referee forms for protocols and reviews and guidance doc added for piloting
Contact the ERC
If you would like to comment on any of these resources, or have any suggestions for new resources, please contact Anna Erskine or John Hilton.