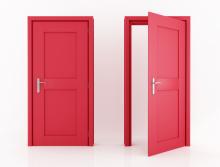 A new way to sign in opens the doors to TaskExchange
Fariz, Aidan, and Matthias want to help you with your review.

Fariz is a medical doctor; Aidan is completing his Master of Public Health and has worked with Cochrane centres in Europe; Matthias has a PhD in pharmaceutical sciences and expertise in urology. They all speak multiple languages.

As Matthias says, they "have some spare time to donate to the advancement of EBM!"

All three of these fine gentlemen contacted me this week to see if they could help out on tasks in TaskExchange, and many others contact me every week.

At the moment, Fariz, Aidan, and Matthias (and their many, many intelligent, well-educated, altruistic friends) can't respond to tasks on TaskExchange, or add their profiles, but that is about to change.

In the next few months, in collaboration with Cochrane IKMD, TaskExchange will be implementing a new sign-on mechanism. People without Archie credentials will be able to create a login and sign up to TaskExchange. People with an Archie account will continue to sign up using their Archie credentials. Task posters will be able to decide how available they'd like their task to be, so you are in charge of just how widely those doors are open.

This is a fantastic step forward, and not just for Fariz, Aidan, and Matthias! It will also dramatically increase the pool of potential people available to respond to tasks on TaskExchange, and we are delighted to be able to act on your requests to make it happen.

We are excited by how this new step will let more people get involved with the work of Cochrane and mean that your team can be even bigger and more diverse than you ever imagined!

As you might imagine, Fariz, Aidan, and Matthias are pretty excited too.
Find out more:
Head to taskexchange.cochrane.org, post a task or two, help someone out, and check out the changes we've made in the last few weeks.
Send us your stories of using TaskExchange and suggestions about how we can make TaskExchange better meet your needs. taskexchange@cochrane.org
Tari Turner
on behalf of the TaskExchange team

Support for Project Transform was provided by Cochrane and the National Health and Medical Research Council of Australia (APP1114605). The contents of the published material are solely the responsibility of the Administering Institution, a Participating Institution or individual authors and do not reflect the views of the NHMRC.
July 20, 2016