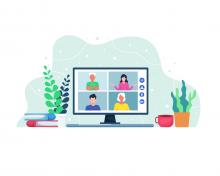 It is with pleasure that we invite our global community of staff, members and supporters to join us for a virtual meeting on Monday 22 March 2021. Register for this event
This is a free online event open to everyone in Cochrane that will give our members the opportunity to hear updates and about key organizational priorities for 2021 and beyond.
 
The session will be presented live twice 09:00-11:00 (check in your local time) and 17:00-19:00 GMT (check your local time) via Cochrane's virtual events online platform, Hopin. Short presentations from Cochrane's leadership will be pre-recorded and made available via email and our Community website during the week commencing 15th March. Alongside the pre-recorded material, you will be given the opportunity to submit any questions that you have in advance so that they can be addressed on the day.

The two-hour format will include a live question and answer session with the majority of time dedicated to smaller, interactive groups allowing our Cochrane colleagues and friends to connect and reunite, and share their work and experiences from the last 12 months. There will be no formal live presentations. 

Free registration is now open via Hopin – register today! Please note that you will need to sign up to Hopin before you can register for the event. In the meantime, should you have any questions, please contact support@cochrane.org
This special event will not replace Cochrane's virtual Governance meetings; we now plan to hold these online on Monday 17th - Wednesday 19th May 2021, inclusive.
We know that COVID-19 continues to have a significant impact on all of us in 2021 with so many disruptions to our home and work lives. We hope you, your families and colleagues are well and safe and we look forward to seeing many of you again, albeit virtually, next month. 
With our best wishes, 
Catherine Marshall and Tracey Howe
Co-chairs of the Governing Board                   
Mark Wilson
Chief Executive Officer                          
Karla Soares-Weiser
Editor-in-Chief
March 1, 2021