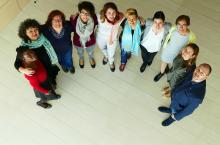 Cochrane is delighted to announce that Cochrane Croatia has been recognized for its outstanding achievements in promoting evidence-based decision-making in health care by being awarded full, independent Centre status.
The Centre consists of longstanding, dedicated Cochrane enthusiasts located at the University of Split School of Medicine, where it is part of the Croatian Centre for Global Health.
Cochrane Croatia will continue to promote evidence-based decision making in health care in Croatia and the region by supporting and training new authors of Cochrane Reviews, as well as working with clinicians, professional associations, policy-makers, patients, and the media to encourage the dissemination and use of Cochrane evidence.
Read the full Press Release on Cochrane.org 
6 June 2017