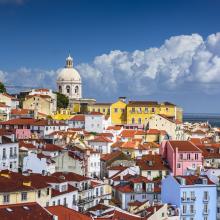 The Cochrane Governance Meetings occur in March/April every year. They are an opportunity for Cochrane's Boards and Executives to meet and agree the organization's strategic priorities. Each year they are hosted by a different Cochrane Group based in Europe and are supported by the Central Executive Team.
The 2018 Cochrane Governance Meetings are being hosted by Cochrane Portugal in Lisbon 19-23 March.
Venue
Tivoli Oriente Hotel
Av. D. João II, n.º 27
Parque das Nações
1990-083 Lisboa
Portugal
Find out more about Lisbon by following these links:
Programme
Registration
Registration is closed.
Cochrane Library Access
During Cochrane Governance Meetings in Lisbon, Wiley have offered free one-click access to the Cochrane Library in Portugal. Free access is available from Sunday 18th to Saturday 24th March. One-click free access is provided by country IP recognition, so no individual login is needed.
Travel information
Restaurant recommendations
The restaurants listed are recommended for group bookings:
Parque das Nações restaurants:
RESTAURANTE D' BACALHAU
Rua da Pimenta, nº45 - Parque das Nações
1990-254 LISBOA
T: +351 218 941 296
F: +351 218 941 298
E: henriquegaf@gmail.com
W: www.restaurantebacalhau.com
CAPRICCIOSA D.O.C PIZZARIA
Passeio das Tágides, Lt. 2.26.01
Parque das Nações
1990-280 LISBOA
T: +351 218 922 595
F: +351 218 922 595
E: capriexpo@mail.telepac.pt
W: www.grupodocadesanto.com.pt
IRISH.CO
Rua da Pimenta, nº57 – Parque das Nações
1990-280 LISBOA
T: +351 218 940 558
F: +351 218 940 560
E: expoirish@grupods.pt
W: www.grupodocadesanto.com.pt
PIZZERIA ZEROZERO (PARQUE DAS NAÇÕES)
Alameda dos Oceanos, Lt. 2.11.01H
1990 – 225 PARQUE DAS NAÇÕES
E: zerozero@pizzeriazerozero.pt
W: www.pizzeriazerozero.pt
REPÚBLICA DA CERVEJA
Passeio das Tágides, lote 2.26.01
Parque das Nações
1990-280 LISBOA
T: +351 218 922 590
F: +351 213 942 419
E: republica.cerveja@mail.telepac.pt
W: www.grupodocadesanto.com.pt
Other suggestions:
If you would like help making a restaurant reservation, please contact Ema Roque at ema.roque@medicina.ulisboa.pt
Questions
Contact Holly Millward, Cochrane's Events & Brand Support Officer at hmillward@cochrane.org
March 15, 2018