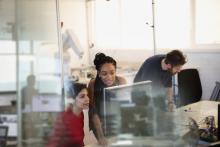 Contract type: Fixed term contract (12 months)
Specifications: Full Time or Part-time considered
Salary: £35,000
Location: Flexible
This role is an exciting opportunity to use your experience as a Communications Officer to make a difference in the field of health care research.  
This role is working within Cochrane's Knowledge Translation (KT) department. It will be responsible for supporting and producing a programme of organizational, including internal communications, outputs in 2020 to raise the profile and impact of Cochrane and evidence informed healthcare, and to support the organization's strategic, advocacy and knowledge translation communications during a year of important operational delivery.
We are looking for a self-motivated and highly organised individual who is able to work effectively and collaboratively with a diverse range of contacts across the world.  The successful candidate will also have:
A degree or equivalent experience working within an internal or external communications environment, or in journalism, and/or in a similar role.
Demonstrable experience of advising and implementing a communications strategy in conjunction with others; and proven success in communicating the vision and mission of an organizational plan.
Proven ability to manage multiple projects and work assignments.
Proven ability to work alongside varied teams in different cultural and linguistic settings.
Impressive interpersonal skills both in person and through teleconferences and webinars.
An excellent understanding of multi-media platforms and how to successfully implement effective strategies to achieve the Cochrane's Knowledge Translation's operational objectives.
Excellent writing skills.
Strong verbal communication skills.
Willingness to work flexibly including outside normal working hours to accommodate different time-zones, and sporadic international travel.
Commitment to Cochrane's mission and principles.
Cochrane is a global, independent network of health practitioners, researchers, patient advocates and others, responding to the challenge of making vast amounts of research evidence useful for informing decisions about health. We do this by synthesizing research findings to produce the best available evidence on what can work, what might harm and where more research is needed. Our work is recognised as the international gold standard for high quality, trusted information.
If you would like to apply for this position, please send a CV along with a supporting statement to recruitment@cochrane.org with "Communications Officer" in the subject line.  The supporting statement should indicate why you are applying for the post, and how far you meet the requirements for the post outlined in the job description using specific examples.  List your experience, achievements, knowledge, personal qualities, and skills which you feel are relevant to the post.
For further information, please download the full job description from here.
Deadline for applications: Thursday 2nd January 2020 (12 midnight GMT)
Interviews to be held on: (TBC)
December 11, 2019