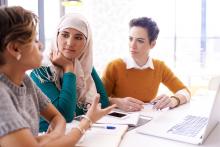 Cochrane is creating vibrant and robust Networks of sustainable, nimble, and connected Cochrane Review Groups (CRGs) which will become the focus for the efficient and timely production of high quality systematic reviews that address the research questions that are most important to decision makers. The creation of the thematic Networks provides an exciting opportunity for Cochrane to support a new generation of senior leaders within the organization.
Following its Governing Board decision in September 2017 to approve the creation of new thematic Networks, Cochrane started a recruitment process to appoint eight high-performing Senior Editors to lead the Networks.
We are delighted to announce we have appointed Professor Lisa Bero as the Senior Editor for the Public Health and Health Services Network, and Dr Nicole Skoetz as the Senior Editor for the Cancer Network.
The recruitment process for Senior Editors has been extended and we are now actively recruiting for the following Networks:
Acute and Emergency Care;
Brain, Nerves and Mind;
Children and Families;
Circulation and Breathing; and
Long-term Conditions and Ageing (that includes two distinct Networks).
At this stage, we welcome applications from experienced leaders within Cochrane, including those who are only able to make a commitment of one year in the first instance, in order to initiate the development of the Network.  
General Description
Senior Editors will support and co-ordinate a wide range of activities within the thematic Networks, assisted by an Associate Editor. They will be primarily responsible for ensuring review quality within their networks, will oversee prioritization and coverage assessment activities, and support innovation that leads to reviews that are better able to meet the needs of end users.
Key areas of Responsibility
Within their individual Network, working with CRG teams and the Associate Editor, the Senior Editor's main responsibilities are both strategic and operational:
To ensure that the reviews produced and published by the CRGs within the Network are of high quality and meet Cochrane's standards.
To identify gaps in scope and coverage based on (at least) the global burden of disease or potential for health impact, and to lead and support prioritization processes within the Network.
To lead and support the identification of shared priorities within the Network.
To support communication between the Network and Cochrane community.
In addition, the Senior Editors will provide an important function by liaising between the Network and the Editor in Chief (EiC), Cochrane Executive Team (CET), and Centres with respect to issues of training, technology, knowledge translation, and innovations in Cochrane Reviews. This aims to ensure that the Networks and CRG community have a strong voice in decisions taken about review production and knowledge translation issues.
Senior Editors will have a strategic leadership role in the Network; and through their membership of the newly created Editorial Board. They will contribute to developing and overseeing strategy, and also to the monitoring the performance of the Cochrane Library.
Each Senior Editor will be responsible for one Network.
Resources
The Senior Editors will receive funding from Cochrane to support their work – scaled at about one day per week of activity.

Senior Editors will be able to draw on support from the Associate Editor allocated to their Network, and from the proposed Methods Support Team. The CET will also seek internal and external opportunities for attracting resources for additional support to Networks.
Accountability
Senior Editors are accountable to Cochrane's Editor in Chief. Upon their appointment, Senior Editors will form an important part of the newly established Editorial Board for the Cochrane Library, along with colleagues representing methods, knowledge translation and end users. The Editorial Board will be responsible for supporting the Editor in Chief and overseeing development and implementation of editorial strategy, and in particular the review production process for Cochrane Reviews.
Person specification
Senior Editors should bring experience that enables them to fulfil the responsibilities of Networks and the Editorial Board, and expertise relevant to the operation of an organization such as Cochrane, operating as a not-for-profit charity in the research and publishing sectors.
Co-ordinating Editors are invited to apply for the role of Senior Editor, but they should step down from the role of Co-ordinating Editor during their term as Senior Editor. Where this is impossible to do immediately, they will be expected to have a joint Co-ordinating Editor, and demonstrate the means by which they will separate the roles to permit independent sign off of reviews produced within their CRG, to avoid the risk or perception of favouring their own CRG in their role as leader of the Network.
Senior Editors should also have substantial experience and expertise in key areas of review production and processes, and in addition should be able to work with:
Sensitivity, openness and awareness of non-verbal communication
Display critical thinking, creativity and strategic awareness
An ability to identify potential problems and deal with risk
Cross-cultural sensitivity and an awareness of issues of equity
Essential attributes:
Leadership and strategy skills and experience
Skills and knowledge in basic and advanced systematic review methods
Recent experience of conducting and leading high-quality systematic reviews (Cochrane Reviews desirable)
Advanced communication, influencing and negotiation skills
Advanced problem solving and time management skills
Strong commitment to Cochrane's Strategy to 2020, the Transformation Programme, and the importance of high quality, relevant systematic reviews that impact on health care and policy
Ability to support and lead innovation
Ability to commit to providing availability for one day per week for at least a one-year period
Desirable attributes:
Relevant content expertise
Past or present experience of being a Co-ordinating Editor of a high performing CRG
Past or present experience of editing systematic reviews
Term of appointment
Senior Editors will usually be appointed for a period of three years. At the end of three years, they will be eligible to stand for re-election.
Recruitment process
This position is open to anyone within Cochrane who meets the requirements described above. To apply, please send a letter outlining your suitability for the role, and a recent Curriculum Vitae. The closing date is Thursday 15th February 2018.
All applications will be reviewed by the Editor in Chief, the Deputy Editor in Chief, and the Sustainability Project Team, who will jointly make the appointments.
We invite job share applications that describe how the functions will be divided, and how continuity will be achieved.
The appointment process will consider the need for all aspects of diversity, including those of gender, age and experience, language and geographical location. We aim to appoint a balanced Editorial Board that includes Senior Editors who possess a wide range of content and methodological expertise.
Individuals who are interested in exploring this opportunity are encouraged to speak with David Tovey, Editor in Chief (dtovey@cochrane.org), or Karla Soares-Weiser, Deputy Editor in Chief (ksoares-weiser@cochrane.org).
To apply please submit your application including a covering letter, Curriculum Vitae, and letter of support to hrenquiries@cochrane.org by Thursday 15th February 2018.
February 12, 2018