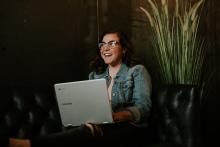 Cochrane TaskExchange, an open, online platform for hosting and completing research tasks, has launched three new and important updates. The features were informed by a user research project run in 2019, and are based on the TaskExchange community's feedback and suggestions. At this time of global uncertainty, with most people in some form of isolation, staying connected is important; online work on TaskExchange offers a way for the global health evidence community to continue to connect and collaborate. The new features will make it easier to work together: 
Users can add attachments to task posts and messages
People posting tasks can unpublish the task once they've found someone to complete it
It is now easier to ensure those completing tasks get rewarded with Cochrane Membership points
Read on for an overview of the updates and a virtual tour of how they work, and sign up to TaskExchange today. 
Everyone: add attachments to task posts & messages
Now, users can add attachments to TaskExchange messages and task posts. This means there's no need to use email during the task process, everything can be managed within TaskExchange. Watch a video showing how this works. 

Task posters: no more unwanted applications
Previously, task posters sometimes received unwanted applications after finding someone to complete the task. Now, it's much easier to unpublish your task when you no longer want to receive applications. Watch a video demonstrating unpublishing a Task. 

Task helpers: it's easier to get Cochrane Membership points
Everyone who completes a task on Cochrane TaskExchange should receive 200 Cochrane Membership points, so they can work towards becoming a Cochrane Member. More signposts have been added to the task journey to ensure points are allocated. See how to receive Cochrane Membership points. 
April 21, 2020