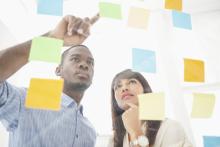 The audience waits, chattering nervously. Anticipation seeps quietly underneath the heavy red velvet curtain. What will be revealed when the curtains part? Will it, could it, live up to our expectations?
The third round of TaskExchange new features are about to be revealed, and I'm waiting in breathless anticipation.
This is my favourite part of the whole process. The moment of transition from dreams, hopes and plans, from carefully sketched designs, and argued-over details, to the real thing.
I'm doubly, no triply, excited this time round as some big changes are in store, changes we've been working on and thinking over, for months. Let me share a little teaser of what is to come.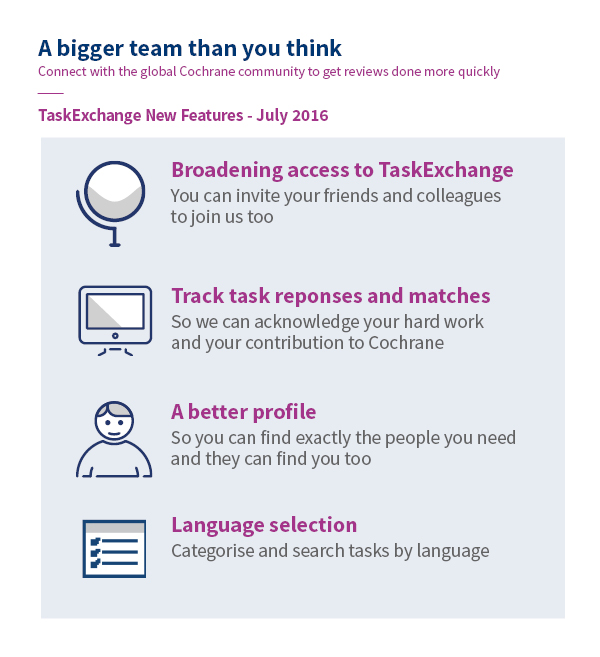 Just between you and me, TaskExchange will soon not just be between you and me! The biggest change in this build of TaskExchange is to enable people who don't have Archie credentials to access TaskExchange. This is a fantastic step forward in our engagement with the big, wide, world community. It responds directly to your requests to have a wider pool of potential respondents for your tasks and also to the many people currently outside Cochrane who have been gently and persistently asking to be involved. We will be putting checks and balances in place to make sure we gain the benefits of this wider engagement in TaskExchange, while keeping an eye out for any downsides. For example, task posters will be able to choose to post their task to an internal Cochrane audience only, or to the entire TaskExchange user base. We can't wait to share this new feature with you.
Another big improvement will allow TaskExchange to track task responses and matches so we can acknowledge the hard work of TaskExchange community members and show how people are contributing to Cochrane.
We will also be making many more improvements to things like how profiles are managed, tasks are displayed, and making sure you can find just the right task or person for you.
And translators, we are delighted to let you know that finally (!) you will be able to categorise and search by language. Woot!
There's plenty more to be revealed, so keep an eye on taskexchange.cochrane.org over the next couple of months.
Find out more:
Head to taskexchange.cochrane.org, post a task or two, help someone out, and check out the improvements that have been rolled out already.
Send us your stories of using TaskExchange and suggestions about how we can make TaskExchange better meet your needs. Remember - you are the stars of the show!
Tari Turner
on behalf of the TaskExchange team
taskexchange@cochrane.org
Support for Project Transform was provided by Cochrane and the National Health and Medical Research Council of Australia (APP1114605). The contents of the published material are solely the responsibility of the Administering Institution, a Participating Institution or individual authors and do not reflect the views of the NHMRC.
June 23, 2016