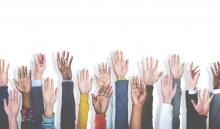 Dear Cochrane Members,
Are you interested in serving as a Trustee on the Cochrane Governing Board?
Five places on the Governing Board are currently up for election and you're invited to stand. 
These roles are open to any Cochrane Member who wants to be part of an international team leading Cochrane for the next three years, help to ensure it remains sustainable, and support the whole organization to deliver the Strategy for Change. Responsibilities include attending monthly meetings online, reviewing and commenting on documents, and serving on one or more Board sub-committees.
Cochrane's Governing Board Co-Chairs, Catherine Marshall and Tracey Howe, share more about the election in this video.
You can also hear about Board Member Juan Franco's experience on the Board, and what he thinks candidates standing for election should know. 
For this election, we're particularly looking for people who can demonstrate skills and experience in one or more of the following areas:
Publishing and Open Access
Fundraising or business development
Digital product development
Financial management
Advocacy 
Science communications or public relations 
Making organizations more diverse and equitable 
These skills can come from any area of your professional or personal lives. We also want to increase diversity on the Board, so for this election, one of the five places available is restricted to a Cochrane Member who is 30 years old or younger on the date the election results are announced.
You can check your membership status at any time by logging into your Cochrane Account. If you have been offered membership, but haven't yet accepted the terms and conditions, you will be prompted to do so when you log in. If you have any queries, please email support@cochrane.org. 
To find out more, please visit elections.cochrane.org. The deadline for your nomination is Sunday 24 October in any time zone.
With best wishes,
Lucie Binder, Electoral Officer
Central Executive Team
October 4, 2021