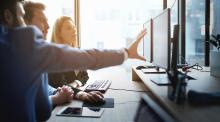 We are pleased to announce the launch of Editorial Essentials.
To support our high quality editorial processes, we need those working in editorial roles to have access to training and support that allows them to undertake their role to a high standard. It is against this backdrop that we have developed Editorial Essentials - a new online resource for people working in editorial roles in Cochrane.
Editorial Essentials is a one-stop-shop for anyone involved in Cochrane editorial work to find the training materials, guidance and other information they need.
For those who are just taking up an editorial role in Cochrane, the new resource can be used as an induction tool. For those who already have experience in editorial work, it can be used to refresh their knowledge and quickly find resources.
Some of the content in Editorial Essentials is new media content produced for this resource, but the primary purpose is to bring together existing content that has been hosted in many different locations previously. In future, we will add new resources as they become available.
Editorial Essentials consists of four main sections:
Editorial policies,
Editorial processes
Methodology
Key Resources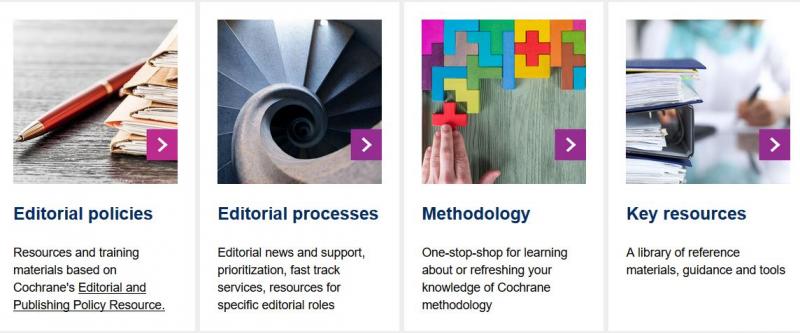 In addition, we have a welcome video message by Cochrane's Editor-in-Chief and a Cochrane context section, which includes links to information about Review Group Networks and a brief presentation around how Cochrane's review production tools map to the production process. There is also a 'Check your knowledge' section with a series of scenario-based questions that point to relevant resources in their answers.
Editorial Essentials is available here: https://training.cochrane.org/resource/editorial-essentials or just go to the Cochrane Training homepage and follow the link. You will need a Cochrane Account to access the resource.
The training and support available for those in editorial roles will continue to develop, with new resources becoming available in 2019. Please do let us know if you have suggestions for particular areas where further training, support or guidance is required to support editorial work in Cochrane.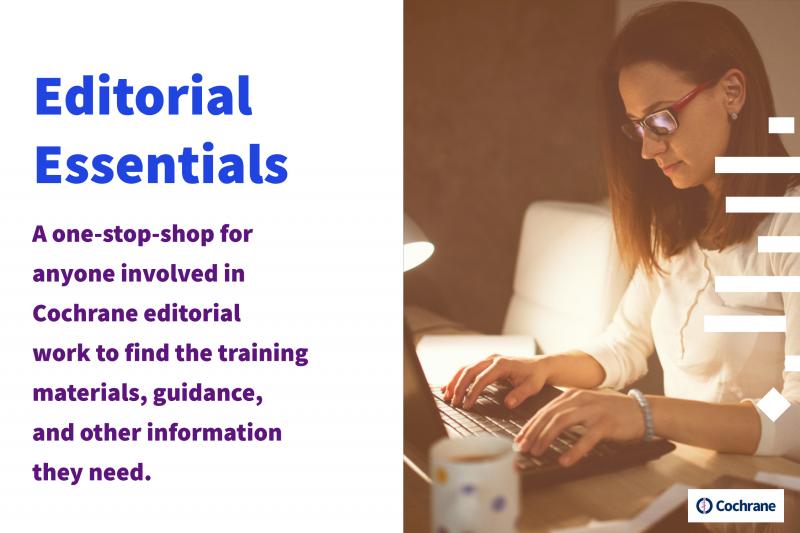 Editorial Essentials have been developed by Dario Sambunjak from Cochrane's Membership, Learning & Support Services Department, with support from the Editorial & Methods Department and an eLearning partner, Kiln. Feedback is welcome at training@cochrane.org.
February 6, 2019