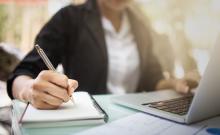 Sign up to help with tasks related to Cochrane COVID-19 work by filling out this survey
Many members of the Cochrane community have reached out wishing to engage in our efforts to respond to the global pandemic. For groups wishing to undertake COVID-related reviews, please see these frequently asked questions for guidance about the process. Alternatively you can view our webinar COVID-19 Rapid Reviews: Cochrane's response so far, including information for Cochrane Review Groups (CRGs) receiving proposals or identifying priority questions. 
Many of you will be fully occupied with business as usual whilst juggling the added pressures of working from home or caring for others. If you do have the time and expertise to respond quickly to editorial tasks and would like to contribute to either COVID reviews or to support your review group colleagues with their ongoing work, please complete the survey: https://www.surveymonkey.co.uk/r/XVGXDYW.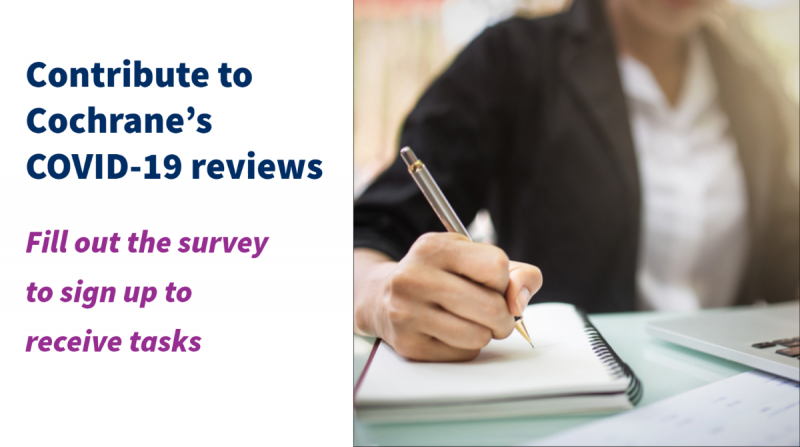 We hope to allocate discrete tasks to those signing up. We do not expect these to be high volume or high frequency. Whilst we appreciate all offers of help, we may not be able to take up all the offers we receive.  
Please note there is a separate from for consumers interested in assisting with a rapid response to COVID related reviews. This form is available here https://join.cochrane.org/covid-19-consumer-rapid-response-interest-form. COVID-19 related tasks that need to be done are also being posted on Cochrane TaskExchange; sign up, browse the tasks, and respond to the tasks that catch your eye! If you are working on a COVID-19 related product, you can also post a task and get help there. 
Thank you for your continued work on COVID-19 evidence synthesis; it is so important, and we are proud of the Cochrane Community!
May 15, 2020