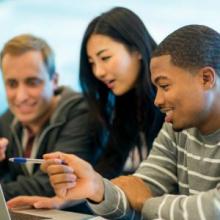 Hot on the heels of the recent TaskExchange release that opened our community to guideline developers, our latest release includes a new endorsements feature. This feature makes it easier for you to find the right person to help with your project and to thank people who have helped you out.
Haven't heard of TaskExchange? It's Cochrane's online platform that connects people working on health evidence projects with people who have the time and skills to help. We think of it as a tool that can help you get your work done more quickly. We now have over 1200 members collaborating on systematic review and guidelines projects, with tasks including language translation, consumer and clinical review, data extraction, screening and guideline development. There's something for everyone, whether you're looking for help or looking to help out.
So, now to the endorsements feature. Read on to hear how it works – and how it will help you choose your helper.
When someone completes a task for you…
… you now have the option of adding a recommendation to their TaskExchange profile. But don't worry, you don't need to remember to do it! A reminder alert will appear once you've logged in to TaskExchange.

By clicking on the alert, you can access the recommend feature, and within minutes you can add an endorsement to the member's profile.
Has someone completed a task for you recently? Log in and post a recommendation now!
If you just think someone is amazing and deserves endorsement…
…the endorsement feature isn't just for people who've completed a task for you. You can post an endorsement for someone you've worked with in other contexts, or taught, or been taught by. Add the endorsement by going to their TaskExchange profile. Go on, make their day!
When you're next looking for a helper…
… check if anyone in your shortlist has been recommended by finding them in the 'all people' list.

Click through to their profile to read the recommendation, and then decide who is best for your task.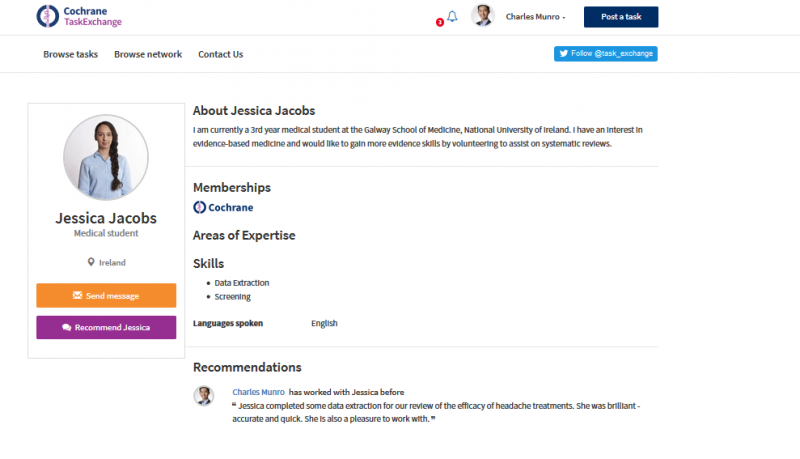 If you're a task helper…
… endorsements will attract others to your profile. When it comes to being chosen for the next task, that's going to come in handy. Who could resist you with all that positive feedback! You could even add your TaskExchange endorsements to your CV or next job application.
What does this mean for you right now?
You can jump onboard right now and start using it! So if someone has recently completed a task for you, or if you think someone deserves positive endorsement, head over to TaskExchange now.
Questions, comments or feedback
Let us know what you think by emailing taskexchange@cochrane.org. And don't forget to follow us on Twitter for our latest news and events.
Support for Project Transform was provided by Cochrane and the National Health and Medical Research Council of Australia (APP1114605). The contents of the published material are solely the responsibility of the Administering Institution, a Participating Institution or individual authors and do not reflect the views of the NHMRC.
August 23, 2017