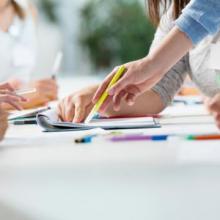 Cochrane has collaborated with the Guidelines International Network (G-I-N) on an exciting new release of TaskExchange, launched today. The new platform aims to forge stronger links between the global systematic review and guideline communities, as part of the Cochrane/G-I-N partnership, which was first established in 2014.
TaskExchange launched in 2016 with the aim of connecting people needing help with systematic reviews with people who have the time and skills to help. It has been a great success and the platform has now been extended to support guideline-related tasks.
Tari Turner, Co-Lead of TaskExchange, explains, "The guideline and systematic review communities are natural partners, and there is much to be gained by bringing them closer together. By opening up TaskExchange to the guideline community, now anyone interested in gaining skills in guideline development and adaptation will be able to help out on guideline-related tasks. The guideline tasks vary and already include guideline development, clinical input to guideline formulation, and review of draft guidelines. Also, through TaskExchange, review teams will be able to access guidelines experts to advise on their own projects. As TaskExchange continues to grow, we envisage it becoming a key peer-to-peer task and networking site for the global health evidence community."
So how does TaskExchange work? It's very simple. People looking for help can post a task, letting people know what help they are looking for and when they need it. People wanting to help can browse the list of tasks and respond to those that interest them. Task posters access responder profiles to help decide who they'd like to work with, and contact their preferred helper to communicate details of the work and manage the task.
So what do you need to do? To engage as a poster or responder on TaskExchange, just sign up.

Then:
If you'd like to gain skills in guideline development, browse the tasks. You can receive weekly email alerts to keep up with what is available (under the 'Manage preferences' tab).
If you'd like to access guideline expertise for your project, log in, post a task on TaskExchange and then sit back and wait for the responses to come in!
If you would like more information about the TaskExchange/G-I-N project, contact Sylvia De Haan, Cochrane's Partnerships Co-ordinator. You can also keep up to date with TaskExchange on Twitter.
July 26, 2017