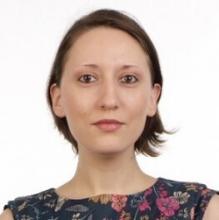 Awareness days have existed as means to spread a message and to raise awareness on a subject matter way before the advent of social media. Nowadays, conversations are largely happening online and joining awareness days and campaigns on social media by means of hashtags is a widespread phenomenon. We spoke to Elena Kostova, Managing Editor of Cochrane Gynaecology and Fertility, about her experience using social media as a dissemination tool.
"In my previous job as an editor, I worked closely with marketing communications managers while designing our journals' content strategy and we often used trending hashtags to promote our published papers. I was interested to know how patients experienced using social media. I found studies reporting that patients could be empowered by using social media for health-related purposes and felt that they took a more active part in the treatment decision-making process.  That's why when I started working on the social media strategy for our group Cochrane Gynaecology and Fertility, I thought that by sharing Cochrane evidence via Twitter using specific hashtags, we could potentially reach a wider and diverse audience.
I was aware that many campaigns existed, and we would have to focus on those relevant to our group. In addition, I was interested in awareness days/months with an already established online international presence. I checked whether they had dedicated hashtags and if people were using these hashtags. It was important that the campaigns had a legitimate message to raise awareness, rather than selling a product for example.
I found two awareness campaigns that seemed relevant for our group – #EndometriosisAwarenessMonth in March and #PCOSAwarenessMonth in September. Cochrane Gynaecology and Fertility has published more than 50 reviews on polycystic ovary syndrome (PCOS) and endometriosis. In our tweets we summarised results from these reviews. We aimed at including a picture every time we posted, as visual posts reach a bigger audience. We also created web pages on our Group's website to track page visits directly. Twitter Analytics is an easy-to-use tool to assess how popular your tweets are. We used Twitter Analytics to measure the number of tweet impressions (how many times a tweet is seen) and engagement (retweets, likes, click links).  Furthermore, using Google Analytics we could not only measure the number of visits to our website, but also where visitors came from.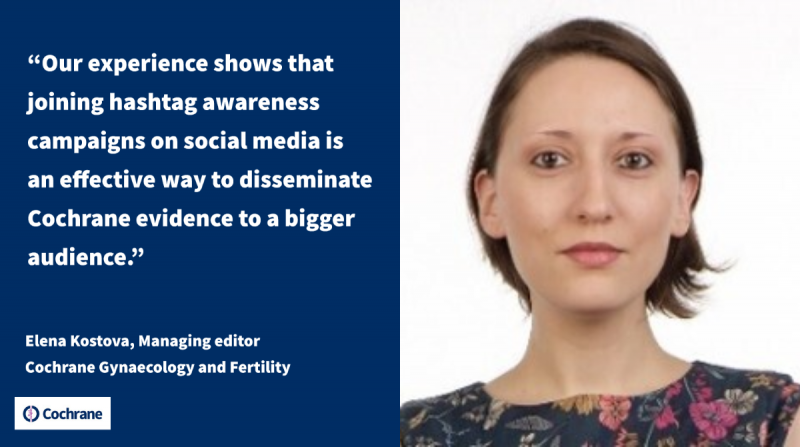 Our experience shows that joining hashtag awareness campaigns on social media is an effective way to disseminate Cochrane evidence to a bigger audience. Using freely available tools like Twitter analytics and Google analytics is a good way to measure how many people you are reaching and how they interact with your posts.  We have also presented what we did in more detail in this Cochrane Colloquium poster, and this video shows in more detail how we evaluated this work."
New – Guidance on the use of awareness days to promote Cochrane evidence
While awareness days present a communications opportunity, they also can carry some risk.  This guidance has been prepared to help you think through the opportunity associating with an awareness day could bring to your group.
Cochrane, for example, has used Mental Health Day and Stoptober as moments to place a spotlight on relevant Cochrane evidence.
However, other awareness moments have been the focus of criticsm. For, example Breast Cancer Awareness Month (Pink October/Octobre Rose) has been criticised by an independent civil and scientific inquiry in France, which found promotional information linked to this awareness day was misleading and exaggerated.
A one page guide, with helpful questions has been created, to support groups making decisions about using awareness days, weeks, months to support their work. This guide summarizes a full report about this topic. 
5 February 2021