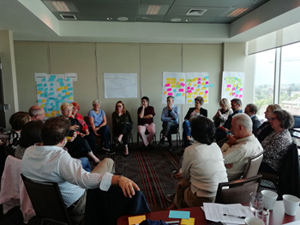 Since October 2019, the Governing Board and Senior Management Team have been considering a wide range of inputs and ideas for the development of the next strategic framework. The draft of this framework is now shared here with Cochrane members, supporters, funders and partners for consultation. Your input will be collated, reviewed and used to make changes and produce a final version. This is your opportunity to show support for what's proposed or suggest changes.
The aim is to launch the final version of the new framework at the virtual Annual General Meeting in November 2020, with activities to deliver the outcomes set out in the framework beginning from 2021. The Governing Board and Senior Management Team had planned a series of face-to-face consultations at various Cochrane meetings throughout 2020, with a launch event at the proposed  - now cancelled - Colloquium in October. However, due to the impact of the COVID-19 pandemic on international travel, consultation and launch will now take place virtually.
Timeline for delivering the new strategic framework
ACTIVITY AREAS
Nov-Dec 19
Jan-Mar 20
Apr-Jun
Jul-Sep
Oct-Dec
Jan-Mar 21
(and onwards)
Preparatory work
 
 
 
 
 
 
Strategic Framework development
 
 
 
 
Annual
General
Meeting
 
COVID-19: operational and
impact evaluations
 
 
 
 
 
 
Strategic consultation: Members
and supporters
 
 
 
 
 
 
Strategic consultation: Funders and Partners – leading to longerterm relationship building
 
 
 
 
 
 
Development of activities under Objectives for 2021, piloting new approaches to project and workplanning
 
 
 
 
 
 
Development of new processes for monitoring and evaluation of Strategic Framework and activities (internal and external stakeholders)
 
 
 
 
 
 
Strategy to 2020 evaluation and report
 
 
 
 
 
 
Download the activity chart for the development of the next strategy here.