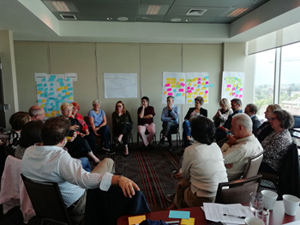 Dear Cochrane Members,
Thank you to everyone who has contributed feedback and ideas on the draft of Cochrane's new strategic framework.
We've received hundreds of responses through the following channels:
A survey open to all members and supporters
A formal response from the Cochrane Council, on behalf of Cochrane Groups
Focus groups with the Cochrane Consumer Network, Early Career Professionals Network, Geographic Group Directors, and Editor in Chief webinar participants
Feedback from Spanish speaking members in Spanish, co-ordinated and translated by Cochrane Iberoamérica
A consultation with the Central Executive Team
A review of Cochrane's response to the COVID-19 pandemic so far
Due to the impact of the COVID-19 pandemic on the workloads, availability and priorities of all Cochrane Groups, members and supporters over the past few months, we extended the timelines for collecting feedback. We're now in the process of analysing it and using it to inform changes to the draft of the new framework.
2020 has been an extraordinary year for everyone. In this context, the Governing Board and Senior Management Team are clear that there is no critical urgency to complete a new strategic plan by the end of year. As we set the priorities for 2021, the organization continues to be guided by its existing Mission and Goals; and a commitment to providing the best available evidence to inform decision-making during the COVID-19 pandemic. We now plan to launch the new strategic framework in early 2021.
You will receive an invitation to Cochrane's Annual General Meeting within the next two weeks, which will now be held in mid-December online. This will be an opportunity for all members and supporters to come together to celebrate our collective achievements over what's been an intensely challenging 12 months for us all and to find out how the organization is preparing for 2021.
Very best wishes,
Mark Wilson, CEO
Tracey Howe and Catherine Marshall, Governing Board Co-Chairs