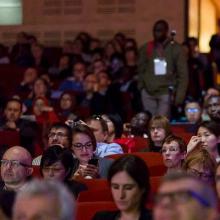 The recordings from this year's Annual General Meeting are now available! Watch Governing Board Co-Chair Cindy Farquhar; CEO Mark Wilson; Deputy Editor in Chief Karla Soares-Weiser; and Treasurer Martin Burton give their views on Cochrane's performance in 2017 and plans for the organization's future.
Cochrane AGM videos: officers' reports
The AGM also featured a series of videos showing stories from the Cochrane community in 2017.

The 2017 AGM was the first to be held under Cochrane's new Articles of Association, with every member entitled to vote. All resolutions put to the vote were approved and the full breakdown of results is available on the AGM website. Full minutes will be available in due course.
For any questions about the AGM, please contact lmcalley@cochrane.org.
October 20, 2017