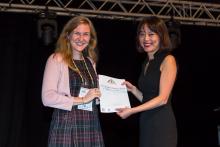 Each year at our annual Colloquium, Cochrane presents a number of awards and prizes to contributors to recognize contributions to our work and organization made in various ways. This year the Global Evidence Summit replaced the Colloquium and the winners were announced at the Cochrane Annual General Meeting and during the Closing Ceremony.
The Thomas C Chalmers Award is awarded to the principal author of the best oral and the best poster presentation addressing methodological issues related to systematic reviews. For the Global Evidence Summit, all eligible authors could enter, not just Cochrane authors.

The 2017 best long oral presentation winner is Emily Karahalios, for 'An empirical investigation of the impact of different methods for synthesizing evidence in a network meta-analysis'. 

The 2017 best short oral presentation winner is Hannah Ewald, for 'Agreement of treatment effects from observational studies using causal modeling and randomized trials: meta-epidemiological study'.
 
The Kenneth Warren Prize is awarded to the principal author of whichever Cochrane Review authored by a national living in a developing country is judged to be both of high methodological quality and relevant to health problems in developing countries. 

The 2017 winner is Ahizechukwu Eke, for 'Hepatitis B Immunoglobulin for the prevention of mother to child transmission of hepatitis B virus'.
 
The Chris Silagy Prize is awarded to an individual who has made an "extraordinary" contribution to the work of Cochrane - one which would not be recognized outside the scope of this prize.
The 2017 winner is Livia Puljak, Translations Coordinator for Cochrane Croatia.
 
The Bill Silverman Prize is awarded to acknowledge explicitly the value of criticism of Cochrane, with a view to helping to improve its work, and thus achieve its aim of helping people make well-informed decisions about health care by providing the best possible evidence on the effects of healthcare interventions.
The 2017 winner is David Henry, for the paper 'Risk of bias in systematic reviews of non-randomized studies of adverse cardiovascular effects of thiazolidinediones and cyclooxygenase-2 inhibitors: application of a new Cochrane risk of bias tool'. Read the blog post about winning this prize.
 
The Anne Anderson Award is awarded to a female member of Cochrane who has made a significant contribution to the enhancement and visibility of women's participation within Cochrane.
The 2017 winner is Sally Green, Co-Director of Cochrane Australia.
September 29, 2017