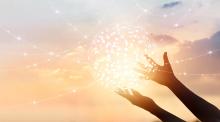 Mark Wilson, CEO and Karla Soares Weiser, Editor in Chief extend their warmest wishes to the Cochrane community at the beginning of this new year.
Here, they reflect on the achievements from the last 12 months, including their personal highlights and summarize what lies ahead for Cochrane over the next year.
The Governing Board has approved five organizational targets this year, as part of the Strategy to 2020, which the Central Executive Team and Cochrane community will focus on. They are:
Improving our technology and revising our processes to create more timely, consistent and efficient editorial and production systems. This will include selection of a new Editorial Management System, which will be implemented in 2020 and into 2021.
In 2020, new, more rigorous policies on Conflict of Interest will be implemented and Cochrane will strengthen and clarify its position on financial interests.
This year there will be a consultation with external and internal stakeholders to achieve a common understanding of the challenges and opportunities for Cochrane in delivering universal, immediate Open Access to Cochrane Reviews whilst continuing to ensure organizational financial sustainability.  The outputs of the consultation will directly inform any future revisions to existing policy.
Plain Language Summaries (PLSs) are a key dissemination product created and published with every Cochrane Review. This project aims, through a pilot, to determine a new approach and format that simplifies and standardizes Cochrane's PLSs to improve the readability and understandability of Cochrane evidence.
In 2020, a new strategic framework and plan will be developed and launched, setting out Cochrane's priorities and decision-making framework from 2021 onwards.
January 20, 2020