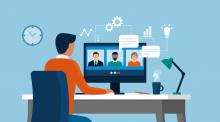 Dear Community Colleagues, 
 
As a result of the continued spread and impact of COVID-19 and ongoing travel restrictions being placed upon our Group staff and delegates across the world, Cochrane's Governing Board have taken the decision that next year's annual Governance Meetings will be held virtually in late March, 2021.  
We were planning to hold Cochrane's annual event in-person in Manchester, UK, but earlier this year the decision was taken to postpone until 2021 due to the pandemic. 
Six months on, employers and national governments around the world are continuing to impose travel restrictions, particularly for those travelling internationally as the number of people testing positive for the virus in the UK and globally continues to rise. In addition, Manchester, the north-west of England and other major UK cities are the subject of tighter restrictions on mass gatherings and travel bans by Public Health England and the UK government because of much greater prevalence in these areas. In addition, many potential attendees to the Cochrane Governance meetings are likely to be reluctant to attend – even if they are allowed to and public transportation links are available.
 
In light of this situation, the Governing Board believe there is a duty of care to Cochrane members and staff, and the increasing risks associated with the spread of COVID-19 has meant that the most appropriate decision is to transfer the event to a virtual format.
 
The Senior Management Team and Central Executive Team are exploring options that include the installation of an online platform for hosting a new virtual Governance Meeting. 
Key features being considered include: 
Live or 'as live' Strategic Sessions for Group staff accessing from all time-zones;
Opportunities for live Question and Answer sessions with Governing Board members and senior Cochrane leadership;
Break-out rooms and workshop functionality that would provide updates on key strategic projects as well as the chance to meet with colleagues and friends, informally; 
Pre-produced content in a variety of formats that would promote the 'best of' Cochrane's work in 2020, providing an opportunity to celebrate and recognize organizational, Group and individual achievements in 2021;
Opportunities for Group Executives, the Governing Board, Editorial Board, Council and other business meetings to occur virtually, if required, either side of the Strategic Sessions as part of the programme's content. (This may involve some business meetings being held as a series of shorter teleconferences).
We believe it is important that we don't try to deliver the traditional Governance Meeting programme online, as that will not work with the challenges of time zones and not all sessions will lend themselves to conversion to the online format. Instead, we want to develop a shorter strategic programme that is engaging and brings people together from across our community for the first time in more than 12 months with Cochrane's new organizational strategy at the centre of it.
We will provide a further update in December with an overview of our plans and provisional dates. If you would like to contribute ideas or comments for the virtual Governance Meetings, please send them by email to support@cochrane.org. 
The Board and Senior Management Team share the huge disappointment that we are cancelling an in-person Cochrane meeting. However, we are all in agreement that this is the most appropriate decision given the global health situation. 
Over the next few months, we look forward to sharing plans for the year ahead in a new virtual world, and in a way that will be available and inclusive to everyone.
 
We thank you for your understanding and hope that you stay safe and well.  
 
With our very best wishes,
 
Catherine Marshall, Tracey Howe
Co-Chairs, on behalf of the Governing Board
and
Mark Wilson – CEO 
Karla Soares-Weiser- EIC
October 30, 2020