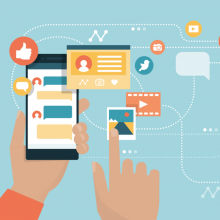 Cochrane Group members are spending between 3 hours to just 15 minutes a week on social media activities. How can you make the most out of that time for maximum impact? In this blog Roses Parker, Research Fellow, and Muriah Umoquit, Communications and Engagement Officer, share communication tips that are easy to implement and take minimal time.  
Often the people doing social media are for a Cochrane Group are doing it along side other responsibilities. To help with this capacity crunch, we've gathered our 5 best hacks to save you time but get the maximum output for any minutes you are able to invest!

1. Tap into the larger communication community on Cochrane Slack
What:  Core Cochrane staff are using Slack as their virtual office - if you are doing comms for a Cochrane Group, then you should be there too! In that workspace there is a 'channel' where suggested tweets are shared, graphics and top tips are posted, and you can ask questions and get help from others doing communications.
Why: It's easy to scan the chat in our channel for items that would be of interest to your audience and copy-and-paste relevant suggested tweets. And the biggest thing - you'll be part of a larger supportive community! 
Time commitment: 10 minutes every week.
Ongoing benefit: Once you have mastered the weekly scan and disseminating of suggested tweets, you can also use the channel to 'boost the signal' on your own news or ask questions. 
Links: Learn more about accessing Cochrane Slack and then head over to #all-comms-help

2. Use a social media posting scheduler 
What: An external tool that lets you manage your social media accounts from one place, allowing you to schedule posts at a later time. 
Why: You only have to sit down once a week and schedule all your social media posts at one time; these posts will automatically go out when you want, without you having to log-in.
Time commitment: 1 hour initial investment and then 10 minutes a day or less if you pair this with tip 1!
Ongoing benefit: Once you get the hang of scheduling, you can look at changing the messaging slightly so you can post about one review/topic multiple times for different audiences, time zones, or branching out into other social media platforms.
Links: We recommend Buffer (It's free for 3 social media channels and 10 posts at a time) and Cochrane UK has an helpful how-to video. 

3. Know your Dissemination Essentials
What: A checklist of 18 considerations when disseminating health evidence. There is a 1-page checklist that is great to print-out and keep handy; the full document is also available with some helpful examples.
Why: If you're low on time, then you are likely not going to be creating elaborate dissemination products but this checklist is fantastic to use as a reference when creating messaging for social media posts. By using the checklist, you will get information to the people who need it, when they need it, in a way they can understand and use it. 
Time commitment: One time commitment of 10 minutes to review the 1 page checklist and one hour to browse and review the supporting materials.
Ongoing benefit: Once you get familiar with the 18 items on the checklist and how to apply them, it can become more of a routine to communication messages. 
Links: Print the 1-page checklist and review the Dissemination Essentials supporting materials - a recorded webinar and the full document with examples. 

4. Keep track of how to reach your target audience
What: Create and maintain an Excel table that you can refer to that has common hashtags you can use to reach your audience and relevant organizations/association/advocacy groups/partners to tag. 
Why: You are likely to have more than one audience and it's likely not everyone from those audiences are following you on social media. Use hashtags and other trusted organizations to help get information you are trying to disseminate in front of the people who need to see it. 
Time commitment: 1 hour for initial set-up and a few minutes a week to update.
Ongoing benefit: Think of this as a long-term project you can build upon. It will become a personalized resource when planning out future dissemination.
Links: Start by looking at the Altmertic Scores of some of your recent top reviews (linked to on the review!) to see who is sharing your reviews and what hashtags they are using. You can also look up specific healthcare hashtags on Symplur.

5. Add a picture to your posts 
What: Add a relevant photo or graphic to your social media posts - Cochrane has a Dropbox of folder of helpful images which are free for you to use. 
Why: It's generally known that images get more attention on social media over not having an image - a small-scale study using Cochrane social media accounts showed this too! An 'Image Checklist' will help give you the confidence to select images and the Central Executive Team can help provide images to you for free. 
Time commitment: One time commitment of an hour to review the check-list and supporting materials and then an few minutes extra for each post.  
Ongoing benefit: You can tailor the pictures you use to your target audience demographics so that the pictures used are relatable and appropriate to your setting and culture. This may concern ethnicity, skin colour, gender roles, hierarchy, moral ideas and common behaviour, gestures, religious practices and places, food, meaning associated with colours or symbols, and design preferences. 
Links: View the Image Checklist with helpful examples and learn about getting access to a free Dropbox folder of images.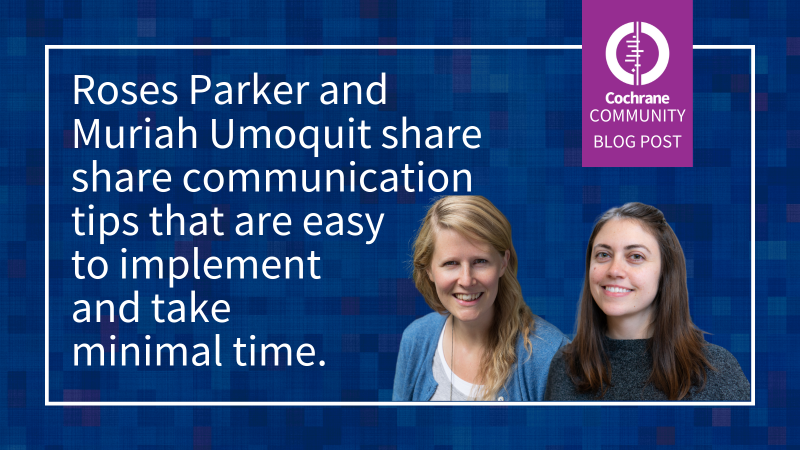 We hope you put some of these 5 hacks into action! If you found this helpful, take a look at these other communication blogs:
3 June 2022