Who are we? What's special about us? How do we show that we are different? 
Everyone who's part of Cochrane will have similar answers for these questions. However, by agreeing on one shared version, we become a more recognizable, more united, and a more effective collaboration. This is what our brand does for us. It's more than just a logo: it distills everything that's great about Cochrane into one clear, strong identity.
Our visual identity is more than just a logo. It is a toolkit of parts designed to work in combination with each other. Together they provide Cochrane with a distinctive look and feel that can be applied across all media and communications materials. 
Cochrane Groups each have their own logo and templates that help make up the Cochrane Community and brand.

Cochrane's brand re-structure is a Strategy to 2020 initiative.
If you need copies of your Group's logo re-sent or you are not sure what your Group's brand colour is, please email Sabrina Khamissa at skhamissa@cochrane.org
---
Brand Guidelines
The Brand Guidelines are a toolkit to help all Cochrane Groups implement our new, coherent, visual and written identity. Its purpose is to give you the most up-to-date and relevant information in order to brand your Group, whether you are an existing Cochrane Group or a newly registered entity.
The contents provide an overview of Cochrane's story: who we are, what we do, and how we describe ourselves to a wider world - as well as make it easier for those new to Cochrane to understand what we are trying to achieve.
In addition, we are providing a section on language, organizational information, and standard policies and procedures as outlined in Cochrane's organizational policies. This will support your Group's external communications style.
It is not designed to be a style guide for Cochrane Reviews. We have our established Cochrane Style Manual.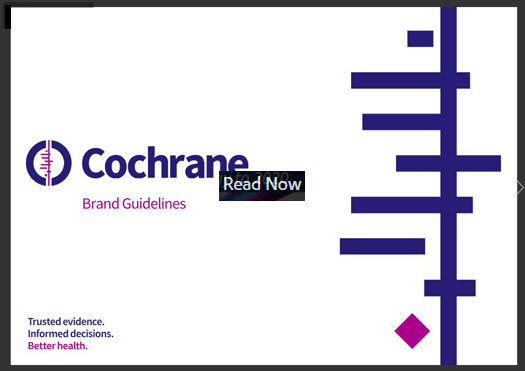 Download Cochrane Brand Guidelines
Updated: November 2018
Community Templates
New templates for 2019
We offer the the branded traditional academic conference templates (and video on how to edit these). New in 2019,  we are also providing branded #betterposter templates. These new templates offer posters with less text and a decluttered design with the main finding in plain English as the highlighted feature. they are offered in the zipped Community template packages above and if you just need the poster template, you can download by the link below:
You can lean more about this design change in this Cochrane news item and with an interview with the designer.
 
Download Source Sans Pro from here: "Source Sans Pro"
Use Source Sans Pro for all documents if possible.
Standard text should be written in Source Sans Pro at 11 point in size.
If sharing the docs with external people make sure to send the doc as a PDF or image file (when possible). 
If you are sharing docs between other Cochrane colleagues and groups you will not need to save as PDFs as the should have Source Sans Pro on their computer.
If you can't share the doc as a PDF or are using websites to produce content, then use Arial.
Source Han Sans (for some languages not covered by Source Sans Pro), Arial or Arial Unicode MS is the secondary font if Source Sans Pro cannot be used.
Video: downloading Cochrane font.
Print Examples
Below are examples of printed flyers, banners, and posters using the Cochrane branding. You are welcome to print and share these or just use them as examples of how you can use the Brand Guidelines.
If you would like help creating your own branded graphics, please fill in the brand specification brief and email it to Sabrina Khamissa at skhamissa@cochrane.org to discuss your branding needs. 
Social Media
New Groups: If you are a new Cochrane Group looking to set-up social media accounts, please contact Sabrina Khamissa before you do so.
Banners: You may request to get branded social media and newsletter banners for your Group. Please provide your Group's name and suggestions for possible pictures (by including URLS to the pictures on istock.com or attaching your own) and send to skhamissa@cochrane.org. Banners can be made for: Facebook, Twitter, YouTube, LinkedIn, Google+ and MailChimp. You can view some Community Social Media Banners Examples here.
Resources: Cochrane UK has collected a number of useful resources here.
 Anniversary celebrations
Banners: Celebrating a birthday or an anniversary for your Group? We can create a banner for your social media and MailChimp accounts. Banners can be made for: Facebook, Twitter, YouTube, LinkedIn, Google+ and MailChimp. Please fill in the brand specification brief and email it to Sabrina Khamissa at skhamissa@cochrane.org to discuss your branding needs.
Pictures: we have a special selection of anniversary pictures here. You are welcome to use them on your website, newsletter, or social media posts.
If you would like other branding or events support regarding your Groups anniversary, please email Sabrina Khamissa at skhamissa@cochrane.org
Photos
Cochrane infographics and blogshots
Please see the updated Brand Guidelines for further information.
Guidelines: An interesting and quick way to tell a story is by using visual representation of your information, data and knowledge. Learn how to create Cochrane branded infographics using products such as Piktochart and Visually or design software such as Adobe Creative Suite and how to use proper Cochrane branding. Join in the discussion about how to show Cochrane evidence visually by visiting the blog Visually Cochrane.
Blogshots: Blogshots are a way of giving information in an image that can be shared on social media, like infographics. You can see examples here on Cochrane UK. You are welcome to share any blogshot found in our photo folder organized by Review Group. You can also create your own blogshots by downloading the template in your group's colour under 'Community Templates' at the top of this page. Read tips on how to create and share blogshots in this Community Blogpost and on Evidently Cochrane and watch this Webinar on Cochrane Training. You can also read tips on how to translate Blogshots in this Community Blogshot.
Vlogshots: Adobe Spark is a free online design tool that you can use to make social media graphics, web stories, and videos. Download the 'How to guides for templates' package on this page under 'Community Templates'. Here you will find 'How to brand vlogshots and other online media content made with Adobe Spark.'
Videos: Read 'Creating an animated video summary of a Cochrane review' on Visually Cochrane.
Share your infographic or blogshot: We will help share your finished product with a wider audience! Save your item with the CD number of the Review in the title. Send the finished product (jpeg) and editable template (PowerPoint, for translation purposes) to mumoquit@cochrane.org
Other Branding Needs
If you have brand requirements such as web banners or logos, or perhaps you need a document branded, please fill in the brand specification brief and email it to Sabrina Khamissa at skhamissa@cochrane.org to discuss your branding needs.