Website How to
Updating Group Contact info
Check Cochrane.org's list of groups  to see if your group's contact information is up to date and your website URL is listed. If changes are needed, follow the instructions below:
Click on the 'Resources' tab.
Find your 'Group type' and Group name in the folder list.
Right-click on the folder for your Group.
Select the 'Properties' option in the pop-up menu.
When the 'Properties' window opens add the necessary information. You will need to click the 'Edit' button to change the address or contact numbers.
When you have finished making changes, click the 'Apply' button and then the 'Close' button.
Please note that it may take up to 24 hours for all changes made to show up on other websites, such as cochrane.org, which are fed from Archie.
Photos
Choosing Images for Sharing Evidence: A Guide – This guide is for anyone who needs to choose images for a dissemination product based on any Cochrane Review. Download the guide here, and learn how it was created here. 
For stock and Cochrane Community images: you can use any pictures found in the photo Dropbox folder for your Cochrane websites, newsletters, reports, printed materials, and social media posts. Pictures in this folder are updated weekly, so we recommend that you bookmark this Dropbox folder. Pictures are sorted into sub-folders and can also be searched for by keyword. To access this photo folder, please email lparsonson@cochrane.org 
Still looking? We have a limited budget to purchase stock photos as support to groups each month. If you cannot find a photo that works for you, please let us know (e.g. topic specific, location specific). You may pick stock images from www.istock.com Send the name of image, URL link, and your group name to lparsonson@cochrane.org  and we will download the photo at no cost your group.
Content
Looking for content for your site? You are welcome to repost anything on Cochrane Community or Cochrane.org on your group's site. You may specifically want to consider these reoccurring news items – they are news item that we update and publish several times a year.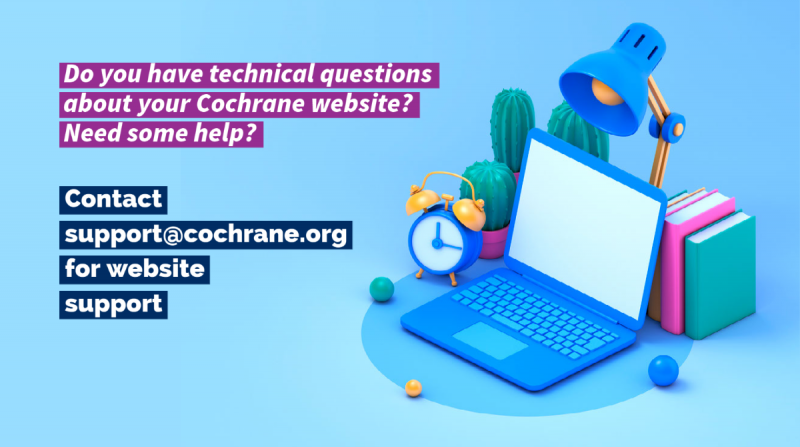 Need more help?
You can send your technical questions and help requests to support@cochrane.org. Our web team can also book how-to sessions with you and train you over Skype.