Who are we? What's special about us? How do we show that we are different?
Everyone who's part of Cochrane will have similar answers for these questions. However, by agreeing on one shared version, we become a more recognizable, more united, and a more effective collaboration. This is what our brand does for us. It's more than just a logo: it distills everything that's great about Cochrane into one clear, strong identity.
Our visual identity is more than just a logo. It is a toolkit of parts designed to work in combination with each other. Together they provide Cochrane with a distinctive look and feel that can be applied across all media and communications materials. 
Cochrane's master brand is represented by the Cochrane blue and purple.

Cochrane's brand re-structure was an initiative that was part of the Strategy to 2020.
Brand Guidelines
The Brand Guidelines are a toolkit to help all Cochrane Groups implement our new, coherent, visual and written identity. Its purpose is to give you the most up-to-date and relevant information in order to brand your Group, whether you are an existing Cochrane Group or a newly registered entity.
The contents provide an overview of Cochrane's story: who we are, what we do, and how we describe ourselves to a wider world - as well as make it easier for those new to Cochrane to understand what we are trying to achieve.
In addition, we are providing a section on language, organizational information, and standard policies and procedures as outlined in Cochrane's organizational policies. This will support your Group's external communications style.
It is not designed to be a style guide for Cochrane Reviews. We have our established Cochrane Style Manual.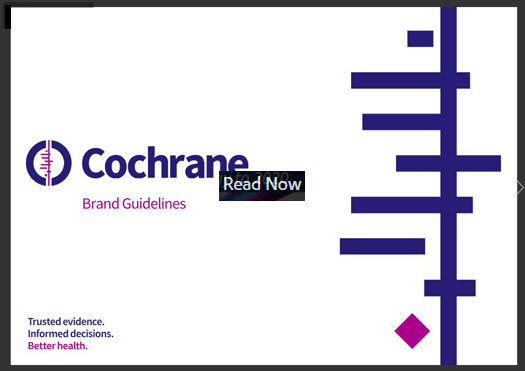 Download Cochrane Brand Guidelines
Updated: November 2018
Master brand logo
Cochrane's master brand logos are the 'Cochrane' and 'Cochrane Library' logos. Please see our Logo and Endorsement Policy for further information.
Master brand templates
Along with the Brand Guidelines there are series of master brand templates, these are available to Cochrane's Central Executive in the shared Dropbox folders.
'About Cochrane' Toolkit
This is a PowerPoint toolkit, which anyone can use when wanting to write or utilize content about Cochrane. The slides contain our translations information as well as 'brand' stories and useable images. It can be updated, changed, and adapted for specific needs and we will continue to include our 'impact' case-studies/stories as we gather them.
Cochrane Font
Download Source Sans Pro from here: "Source Sans Pro"
Use Source Sans Pro for all documents if possible.
Standard text should be written in Source Sans Pro at 11 point in size.
If sharing the docs with external people make sure to send the doc as a PDF or image file (when possible). 
If you are sharing docs between other Cochrane colleagues and groups you will not need to save as PDFs as the should have Source Sans Pro on their computer.
If you can't share the doc as a PDF or are using websites to produce content, then use Arial.
Source Han Sans (for some languages not covered by Source Sans Pro), Arial or Arial Unicode MS is the secondary font if Source Sans Pro cannot be used.
Video: downloading Cochrane font.