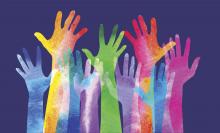 Being global and diverse has always been an important part of Cochrane. Our Principles highlight the importance of diversity and inclusion within the organization through the objectives Enabling Wide Participation Promoting Access and Striving for Relevance. These principles were also picked up in Cochrane's Strategy to 2020 with a stated objective to 'become a truly global organization by establishing a Cochrane organizational presence in all regions, building capacity in low- and middle-income countries; promoting gender, linguistic and geographic diversity; and enabling generational change' (Goal 4, Global and Diverse).
The 2019 Colloquium in Santiago was scheduled to be an event centred around diversity and inclusion in Cochrane and there were many important sessions scheduled to explore the challenges that Cochrane faces in this area. Unfortunately, that Colloquium was unable to go ahead, and we lost an important opportunity to have open conversations about diversity and inclusion in Cochrane as a community. 
Despite this setback, diversity and inclusion has continued to be a priority for the Governing Board and the whole Cochrane leadership. Following discussions about how we can make progress in this area, we have decided that the first step is to undertake a process of reflection to understand the current state of diversity and inclusion in Cochrane. 
We are undertaking a 'listening and learning' exercise to capture the experiences, thoughts and recommendations for future action of Cochrane members and supporters on expanding diversity and inclusion in the organization.
As part of this work, we are seeking members of the Cochrane Community with an interest in diversity and inclusion to put themselves forward for a Diversity and Inclusion Advisory Group which will support and advise on this important initiative during 2021. 
This advisory group will provide valuable feedback and guidance throughout the process to ensure we undertake this process in a way that leads to meaningful results. 
If you would like to apply to be a member of the advisory group, then please read the details attached and follow the application process outlined by March 15, 2021.
Read the description and terms of reference for the Advisory Group
18 February 2021