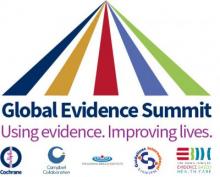 Cochrane is joining together with four other leading organizations working in the production and dissemination of evidence for decision making in the global health, social, and economic policy and practice sectors to host the first Global Evidence Summit.
Working in partnership with the Guidelines International Network, The Campbell Collaboration, the International Society for Evidence-based Health Care, and the Joanna Briggs Institute, Cochrane will help to organize and hold the Global Evidence Summit (GES) in Cape Town, South Africa from 12-16 September 2017.
The theme of the GES will be 'Using Evidence. Improving Lives', and the event will highlight and promote evidence-informed approaches to health policy and development, with a special focus on the opportunities and challenges facing low- and middle-income countries. Our colleagues at Cochrane South Africa will host this landmark event, which is expected to bring up to 2000 delegates to Cape Town from across the evidence community. For more information, please read the full official announcement.
To keep up to date with plans for the GES, please visit the event website and follow on Twitter: @GESummit and #GESummit17. Registration is scheduled to open in late 2016, and regular updates will be available as event planning continues.
10 June 2016