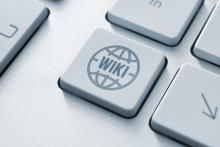 Jennifer Dawson, PhD has worked with Cochrane as the Wikipedia in Residence since 2016. Her role includes maintaining and building further relations with Wikipedia, connecting new editors to the Wikipedia community, and supporting requests for engagement in Wikipedia work from the Cochrane community. Here she shares a few of her top FAQs on how to fix what people are reading on the internet! 
Cochrane has been working with Wikipedia since 2014 to try and improve the health-related evidence that is presently being shared in the over 36,000 medical articles on English Wikipedia. Here are the top three questions that we get. 

I am interested in improving a health-related article on Wikipedia. How do I get started?
The best way to start improving Wikipedia is to register for an account and then go in and fix that mistake. "Being bold" is actually encouraged on Wikipedia! When 'fixing' a mistake be sure that your improvement is supported by a high-quality citation that meets Wikipedia's guidelines! When you are ready to add more health-related evidence, visit the Cochrane-Wikipedia Project Page for more information.

I have found a Cochrane Review that may be helpful to use as evidence in an article. What is the next step?
I usually suggest that you spend some time reading the present version on the Wikipedia article first before jumping in with new ideas. This ensures that the evidence is not already shared in a different part of the article. Once you have a place where you feel that your evidence would be 'useful' to readers, here are a few tips:
Paraphrase all evidence (we cannot use quotations from sources on Wikipedia)
Be sure to integrate your evidence into the existing text. Often this means expanding on the existing background information section in the Wikipedia article.
It is not appropriate to share the PICO details or other information about how the systematic review was conducted in the Wikipedia article. If people are interested in this information they can read the source.
It is also not usually necessary to share the source of the evidence in the text of the article (e.g, please not note write "A 2021 Cochrane review found that….") See below for an example of how to share evidence, taken from https://en.wikipedia.org/wiki/Cardiac_surgery.
Pulling in other high-quality secondary sources in addition to the Cochrane review is also ideal.
BEFORE:
AFTER:
Example of an article improvement sharing background information from two different sources.

What if I have a conflict of interest in a field that I would like to improve on Wikipedia? What if I am an author on a review that I feel could be used to improve a Wikipedia article?
Conflict of interest is taken very seriously on Wikipedia. If you are an author on a paper or have a conflict of interest in an area that you would like to improve on Wikipedia it is great that you are asking this question! The first thing to note is that being transparent about your COI on Wikipedia is very important. Here are some ideas for how to get started:
All Wikipedia articles have a "talk page" or back page where proposed content can be discussed. If you have a conflict of interest I encourage you to first start a discussion on the talk page and disclose your COI. More information about the talk pages can be found here: Wikipedia: Talk page guidelines.
It is usually possible to post your ideas for improving on the talk page and then you can work with the existing volunteers to improve the article.
For more information please see: Wikipedia: Conflict of interest and Help:Wikipedia editing for medical experts or contact the Cochrane Wikipedia Project.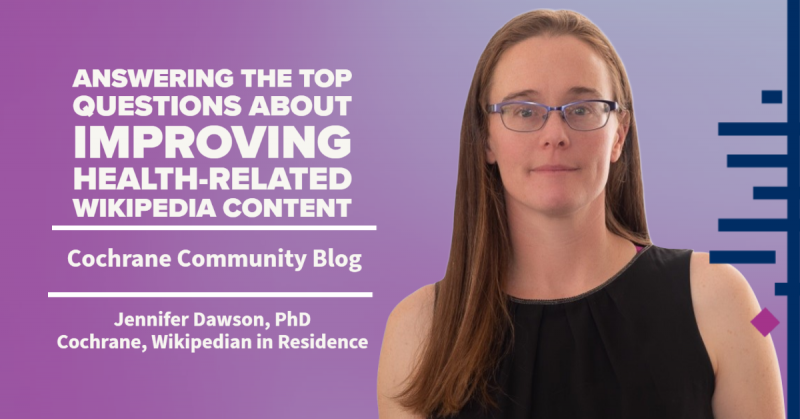 Jennifer can be found on Wikipedia at: JenOttawa and by email at jdawson@cochrane.org. Please visit the Cochrane-Wikipedia Project Page for more information.
January 5, 2022