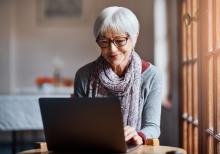 Are you interested in helping to shape Cochrane evidence related to COVID-19, and to help make it accessible to the public? We are forming a group of patients and carers who are able to take on tasks at short notice to help contribute to Cochrane's rapid review work, and more.
Cochrane responds to the COVID-19
As part of our response to the coronavirus (COVID-19) pandemic, Cochrane will be working on reviews of evidence in the weeks and months ahead. Many of these reviews are carried out very quickly and aim to answer questions submitted by users of our evidence, including policymakers, to help them make decisions.
You can read more about how Cochrane is responding to the pandemic, including through rapid reviews, here.
Consumer (patient and carer) involvement in rapid reviews
We are keen to have consumer (patient and carer) involvement in these rapid reviews. As these reviews are done very quickly, everyone's help needs to be organized in a focused and timely way. In order to best facilitate patient and carer involvement in these reviews, we would like to recruit consumers to be a part of a COVID-19 consumer rapid response group.
Who can be involved in the rapid response group?
We are particularly looking for people who have experience of helping with Cochrane reviews, and who are one or more of the following:
People at high risk of COVID-19 infection (e.g. such as immunosuppressed, people living in high risk areas, people working with sick persons)
People who are ill or have recovered from COVID-19 
People who have experience caring for someone with COVID-19 as an informal caregiver
Family members and/or co-habitants of people who experienced COVID-19
People with lived experience of other conditions (e.g. mental health, cancer) that are influenced by COVID-19
People who do not have direct lived experience related to COVID-19 but are interested in contributing to reviews and guidelines 
Experienced consumers who could support new consumers
How might I contribute?
Tasks that you might be asked to undertake as part of this group include:
Helping to choose important questions for future research
Helping to define the research question
Working as part of an author team throughout a review
Helping to think about the implications of a review for consumers
Commenting as a consumer peer reviewer
Helping with turning the research into accessible information for consumers
Helping to make sure this information reaches other consumers
What volunteers can expect
We will offer members of the group access to training, support and other resources where needed, so that they are ready to contribute to these rapid reviews.
Members of the group will need to respond to reviews at very short notice. Members will be offered access to learning, support, and other resources where needed, so that they are ready to contribute to these rapid reviews. We will continuously evaluate the initiative, implementing changes as needed in response to feedback from consumers and review teams.
How to get in touch
If you think you may be able to help, please let us know that you are interested by:
Following this link and completing the details in the online form)
AND
Registering as a member of the Cochrane Consumer Network and joining our mailing list (if you haven't already done this) so that we can keep in touch with you
What happens next
We are now creating the resources you will need to support this work.  The situation is rapidly changing so please be patient. We will respond to you as soon as we can.
And finally
Thank you for your interest. If you have urgent questions, please email consumers@cochrane.org.
April 27, 2020