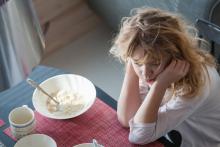 Cochrane UK runs occasional special series, sharing evidence and experience on a topic in multiple blogs and other material through social media channels. Sarah Chapman and Selena Ryan-Vig share tips on how to put together a successful series. This is an abridged version of the blog post on Evidently Cochrane.
In the traditional tale, Goldilocks had to try several beds and bowls of porridge, and even break a chair, before she found what was 'just right'. This seems a fair analogy for the process of creating and sharing our special series. Beginning in 2015 with Men's Health Week, we have run up to four series a year, and over the past year we have had series on The Problem With Sex, Dementia, Antibiotic Resistance and Life After Stroke. We have learned things each time that have fed into the next series, repeating approaches that seem to have worked and making adjustments where we feel things could have gone better. Whilst we can't claim to have got it 'just right' yet, we hope that we have some tips to share.
Plentiful porridge
At Cochrane UK we are fortunate that two of us are able to work full time on creating and sharing content for social media based on Cochrane (and other) evidence and resources to help people understand and use evidence for decisions about health. We also benefit from hosting the Students 4 Best Evidence site, run by one of our colleagues; from the support of our Information Specialists; and the clinical input and blogging skills of our Cochrane Fellows and Trainees.
These resources all come into play when we put together a special series, but we think what we've learned could be helpful for others wanting to do something similar with fewer resources.
Once upon a time… Choosing a topic
Audience: choose topics relevant to your target audience(s). We choose common topics, of importance for the UK population and the provision of healthcare here.
Timeliness: ask, why focus on this topic now? It might tie in with a health awareness event, ongoing external campaign, the publication of a key report or with new Cochrane evidence. Tying in with a bigger campaign is a bit of a gamble. It can pay off, providing a ready-made audience with an interest in the chosen topic, and organizations keen to share relevant evidence, but we found that our #AntibioticResistance series got rather lost during a global campaign on this topic, and using a widely-used hashtag.
Core material: what's in the Cochrane Library? We make sure there are plenty of up-to-date Cochrane Reviews to share, on different aspects of the overall topic. Whilst having robust evidence to highlight is desirable, our series #TheProblemWithSex took as its central point the lack of good evidence on an important and widespread set of health problems, and this worked very well.
Into the woods: content
Goldilocks principle
We have experimented to find just the right amount of content. We have settled on spreading a series over a month, sharing two (occasionally three) blogs a week, with blogshots in between, and ideally a tweetchat. There seems to be a midweek dip in blog views so we avoid publishing mid-week unless sharing three blogs.
We've started including a 'round-up' blog where we add links to all the blogs as and when they are published, alongside blogshots, vlogshots (video summaries), podcasts and other resources. A round-up is a handy resource in itself to re-share and pulling together content in this way has been well-received. For example, the Life After Stroke round-up was the most-viewed blog post of the series, receiving comments such as "fantastic and clear multimedia presentation of research evidence @CochraneUK in #LifeAfterStroke".
The path is long and rarely straight
We generally have the topic planned for our next three series and begin planning the next soon after we finish one.
We gather up relevant Cochrane Reviews and any other key material, choose which will feature in blogs and blogshots, and identify the key target audiences (such as patients or nurses) and potential guest bloggers – experts by experience, researchers and clinicians.  We ask for draft blogs to be submitted at least two weeks before the series launch, as working with bloggers to get to the final version may take quite a lot of time.
We have successfully co-hosted tweetchats with the We Communities, for whom this is a core activity. Their schedules tend to be set a long way in advance, so this needs planning well ahead of time. Writing a blog summarizing the chat and reflecting on it is well worth doing.
Top tips: work out how much time you think you need and double it. Have contingency plans in case an anticipated piece of content doesn't materialize.
Mirror, mirror….
Pictures chosen for blogs and blogshots need to reflect the content accurately (right clinical equipment or population, for example) and sensitively. Think about illustrating a concept in the blog (decision-making, for example) which can make for variety and interest and get around the problem of a finding an image of the right piece of medical kit or a tricky clinical topic. I've written here before about the difficulties of working with stock images. Photos need to meet the Cochrane brand guidelines. We sometimes get images free to use from unsplash.com or buy them through istock – these are then available for others in Cochrane to use.
Straw, sticks or bricks?
Those pigs were never going to build wolf-proof houses from the first two. Top tip: think carefully about your resources and plan accordingly.
Climbing Rapunzel's hair: risks and opportunities 
Top tip: think ahead about what might go wrong, or be risky, and who or what could help make the series successful.
Some things might have the potential to be both, as with our choice of running the #AntibioticAwareness series during a global campaign. The risk of our series getting swamped had to be balanced against the potential for increased interest and visibility.
Bring back the treasures: impact
Many traditional tales involve three sons or daughters sent away to complete a task (or three). They will have all sorts of adventures on the way, but it's vital that they bring back the required items to show they have succeeded in the task. So it is with our social media efforts, and we must try to show some results from our efforts.
Measuring the impact of our series can be challenging. We often receive positive feedback on social media, such as "Loving the #LifeAfterStroke series by @CochraneUK. Great to see perspectives of stroke survivors, researchers and health professionals on life after stroke". We also track various analytics, such as view counts and click-throughs to content. These often sound impressive. For example, our Dementia Spotlight blogs were viewed over 10,000 times, as were our Life After Stroke blogs and our related tweets during that month had 5.8 million impressions. During #AntibioticResistance Week, Cochrane UK were 1 of the top 5 'influencers' on Twitter.
Key questions when planning a special series:
Which topic?
Who will be interested?
What can we share?
What resources do we have?
How long will it take? (Add extra time!)
When's a good time to run it and over what period?
Who can contribute content (bring in people with different perspectives) or help promote it?
What might go wrong?
How will we measure impact?
Read the full version of this blog post on Evidently Cochrane that includes many great examples of the tips above.
Join in the conversation on Twitter with @CochraneUK @SarahChapman30
June 15, 2018