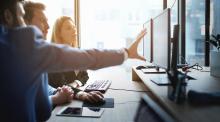 Cochrane and Wiley are delighted to invite you to preview the new Cochrane Library website: https://betacochranelibrary.com/
This preview allows you to view some of the new enhancements to the Cochrane Library and to take a look at the site before the future full launch.
Please be aware that the site is still in development and that this is not the final version of the new Cochrane Library website. This preview site will not replicate all features of the current Cochrane Library, so please do not try to save searches or access your previous saved searches as this functionality will not be available until full launch.
Some of the enhanced features we are pleased to share with you include:
Improved article design for Cochrane Reviews, CENTRAL records and all content
Cochrane Clinical Answers now fully integrated in the Cochrane Library
Search expanded across all content types, including Cochrane Reviews & Protocols, CENTRAL, Editorials, Special Collections, Cochrane Clinical Answers and other systematic reviews from Epistemonikos via a new federated search feature
A new Spanish language portal and discoverability of translated content in multiple languages via basic search
Improved search results display, including new filters for all content, and expanded sort and multiple record export options
Advanced search tabs better integrated, and MeSH search feature improved
Linking CENTRAL records to Cochrane Reviews
Easy navigation between Cochrane Reviews, related podcasts, Editorials and Cochrane Clinical Answers
The Cochrane Library preview site has been live since Thursday 5th April. During this first week, we have seen 6,000 users, that's an average of 850 users per day, and we have recorded over 22,000 page views.
We will be announcing the launch of the new Cochrane Library website in full during the coming weeks; in the meantime we value your thoughts on this preview site, and you can submit feedback here: https://betacochranelibrary.com/feedback
Best wishes
David Tovey
Editor in Chief
Cochrane Library
April 16, 2018