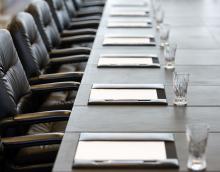 The Cochrane Council exists to give Cochrane Members, from a broad range of constituencies, a voice in Cochrane's future. The purpose of the Council is to provide:
A forum for Cochrane Groups and Members to consider high-level matters affecting Cochrane as a whole;
A mechanism to raise matters and provide input to the Governing Board on behalf of Cochrane Groups and Members; and
A forum to consider matters at the request of the Board and inform Board deliberations.
Following the recent retirement of Author representative Julie Brown, the Council is seeking to elect a new member to join fellow Author rep María Ximena Rojas Reyes.
Any Cochrane Member who has published at least one Cochrane Review in the Cochrane Library is eligible to stand for election. Your name must be listed in the Authors section of the Cochrane Review, but you do not have to be lead/correspondence Author on the Review.
This is a voluntary, unpaid role and each year you'll need to commit to attending two face-to-face meetings at different locations internationally and regular teleconferences. Your expenses will be paid. The term of appointment is three years, from August 2018 to August 2021, and you should be available to attend the Cochrane Colloquium in Edinburgh this September.
June 21, 2018