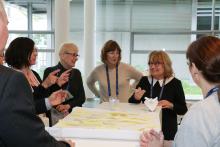 Do you have an innovative idea to engage with or involve healthcare consumers? Submit your proposal to the Challenge Fund for one of four awards worth £2,500 each
As part of the Cochrane Consumer Network's Delivery Plan (Priority 2.2 to develop the role of Cochrane Geographic Groups in supporting consumer involvement) a Challenge Fund has been established to provide awards to support new activities in engagement and involvement of healthcare consumers and sharing examples of activities with the network of Geographic Groups.
Does your idea fit the criteria?
Four awards of £2,500 each will be available. Applications open in October 2019. Awards are to support innovative activities that address issues relating to consumer engagement and involvement, identified in:
The Challenge Fund is open to supporting a range of activities under a very broad definition of consumer engagement and involvement, but funded activities will need to demonstrate how they:
meet the needs of healthcare consumers, (i.e. patients and care givers)
Involve consumers in the planning, delivery and reporting of the activity
AND at least one of the following
Develop and test a new approach to engagement or involvement
address the needs of consumers in areas of the world where engagement and involvement has not yet occurred
 address the needs of "seldom-heard" groups for reasons including disability, ethnicity, sexuality, communication impairments, mental health problems, homelessness and geographical isolation)
Who is eligible to apply?
We invite submissions from Cochrane's network of Geographic Groups (Affiliates, Associate Centres, Centres and Networks). An application constitutes a commitment to work with Cochrane and to be willing to enable approaches tested during the project to be further taken up as part of Cochrane's ongoing work.
We will look favourably on proposals that:
are from Cochrane's Geographic Groups in Low- and Middle-income countries
make clear how Geographic Groups intend to evaluate the impact of their innovation
make clear how Geographic Groups intend to disseminate findings to colleagues across Cochrane
demonstrate match funding by institutions, whether that is through resourcing or staff commitment.
Please note: We will not fund proposals specifically to support attendance at international conferences, or proposals for completed initiatives.
How and when can you apply?
The call for proposals is open and closes at midnight UK time on Monday, 9th December 2019. Awards will be announced shortly afterwards. We may require shortlisted candidates to make a further presentation prior to making a final decision about awards. The expectation is that the successful project(s) will commence in January 2020 and run for a maximum of 9 months.
A requirement of funding will be to provide a report of progress, at three-monthly intervals from the start of the project, final findings for sharing at the Cochrane Colloquium in October 2020 (at a meeting to be determined), and a written or video report for sharing with the wider Cochrane community.
To apply, please complete the application form available from rmorley@cochrane.org. The application should be completed either as an MS Word file or pdf
For any questions about the Challenge Fund, including submission of applications, please contact:
Richard Morley
rmorley@cochrane.org
October 31, 2019