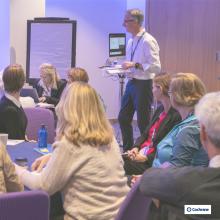 Changes to the Cochrane Council

The Cochrane Council aims to ensure that Cochrane Groups retain an effective voice in Cochrane's leadership and strategic decision-making.
Fergus Macbeth, Co-Chair of Cochrane Council, has stepped down from his position after two years of service on the Council; Fergus will continue his work as Co-ordinating Editor of the Cochrane Lung Cancer Group.
We are delighted to announce the appointment of Craig Lockwood as the Council's new Co-Chair, who will work with current Co-Chair Miranda Langendam. Craig is the Director of Implementation at the Joanna Briggs Institute of Science as well as the Director of the Cochrane Nursing Care Field. He is the Council's Representative of Cochrane Fields Groups.
The Council and the Governing Board wish to thank Fergus for his contribution to Cochrane and wish many congratulations to Craig on his appointment.
April 9, 2019