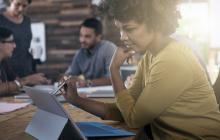 Following consultation with current Trials Search Coordinators (TSCs), the Cochrane Steering Group (CSG) has approved the TSCs' recommendation that their title be changed to 'Information Specialist' and the title of Assistant Trials Search Coordinator be changed to 'Assistant Information Specialist'.

As the job title of TSC is not used outside of Cochrane, its remit is not clear externally. 'TSC' also does not encompass either the diverse range of tasks that TSCs perform, or the varied skill sets they bring to the organization.
Bringing the Cochrane role title in line with the wider library and information profession is important for the professional recognition and career progression of current post-holders, and for the future recruitment of suitably qualified and experienced candidates to Cochrane.

This title change is effective across Cochrane as of 1 March 2016. If you have questions about this, please contact Elizabeth Stovold (estovold@sgul.ac.uk) in her capacity as CSG representative for the TSCs/Information Specialists.
4 March 2016