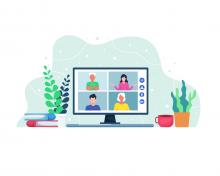 Dear Cochrane Community members and friends,
We would like to thank everyone who joined us for our first virtual community event this year earlier this week: Cochrane in 2021: an opportunity to reunite with colleagues. 
We hope that you found the online experience with smaller group conversations as well as updates on Cochrane's 2021 organizational priorities engaging and informative and a much-needed opportunity to reunite with colleagues. We are delighted to share with you that 238 members attended the sessions; 104 of you took part in the timed one-to-one networking sessions; and 132 of you connected with colleagues via the online messaging chat. 
As Co-chairs, we would like to pass on that we particularly enjoyed meeting and sharing conversations with many interesting people during the coffee and networking sessions and we look forward with eager anticipation to the next time we meet.
As promised, we want to hear about what you thought of the session and improvements we can make for future virtual gatherings this year, including our scheduled Governance Meetings in May. If you want to tell us more, you can complete a short survey here. Early feedback indicates that the one-to-one networking sessions were a huge success and the live 'Question and Answer' forum a positive, interactive element of our time together. 
We would like to answer all the questions posed during the two live sessions – many were answered, and you can view or listen to a recording of the sessions here. For those questions submitted subsequently, or we ran out of time for, we will respond within the coming days.
We look forward to meeting with many of you again during 17-19th May for our Governance Meetings, if not before. In the meantime, should you have any questions, please contact support@cochrane.org.
With our best wishes,  
Catherine Marshall and Tracey Howe
Co-chairs of the Governing Board                   
Mark Wilson
Chief Executive Officer                          
Karla Soares-Weiser
Editor-in-Chief
25 March 2021