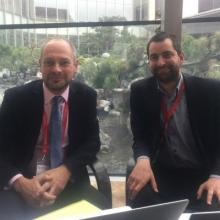 Cochrane and the Epistemonikos Foundation are delighted to announce the launch of our official partnership aimed at improving the knowledge base for making decisions in health care and global health policy.
The close alignment of objectives, values, products, and services between Cochrane and Epistemonikos has existed for some years. Both organizations believe that systematic and rigorous approaches to research synthesis lead to better-informed choices by policymakers, practitioners, and the public, and thus to better health outcomes for people throughout the world.
The Epistemonikos Foundation is a non-profit organization whose core objectives are to bring evidence closer to those making health decisions through technology and innovation, primarily via the Epistemonikos database. The database was established in 2009 and by the end of 2016 is expected to include close to 100,000 systematic reviews.
Cochrane and Epistemonikos wish to continue our history of working together by establishing a long-term collaboration to build on our respective strengths and together develop products and services to support the healthcare community. To this end our organizations have signed a Memorandum of Understanding to structure and focus our collaborative work for the next five years.
Julian Elliott, Cochrane Lead for Evidence Systems, said: 'Many within Cochrane have been working closely with Epistemonikos for some time and using the great resources provided by the Epistemonikos database. We are thrilled to see this relationship move into a new phase of close and productive partnership and are looking forward to many more joint initiatives.'
These sentiments were echoed by Epistemonikos Co-Founder and Chairman Gabriel Rada, who said: 'Epistemonikos started as a small project that was born within Cochrane. In some way it was conceived to complement the role of Cochrane, and for the same reason we have a common vision, methods, and ethos. Now the project is mature and ready for greater challenges. We are thrilled to partner Cochrane in this endeavour.'
For more information on the partnership and plans for the future, please contact the Cochrane Central Executive team.
5 December 2016