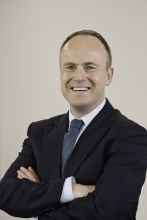 Cochrane, the global, independent network of researchers, professionals, patients, carers and people who are interested in evidence-informed healthcare is pleased to announce the appointment of Dr Gavin Adams as their first Director of Development.
Gavin will join Cochrane – which recently welcomed Catherine Spencer as new Chief Executive – in early October to lead a portfolio of work in fundraising, communications and business development. His experience and credentials are a great match for Cochrane.
Gavin is currently employed with the Extern Group as Director of Business Development. Extern is a large charity which delivers services to extremely vulnerable people in Northern Ireland and the Republic of Ireland, including people who are homeless, refugees, people with addictions, and disadvantaged young people and families. In this role, Gavin leads on the organisation's income generation, communications and engagement, strategic development and public affairs activities.
Prior to taking up his role with Extern, Gavin undertook a similar position with the Royal National Institute for Blind People (RNIB). Gavin has also been a Programme Manager and Head of Programmes with the Big Lottery Fund where he managed the assessment of funding applications and developed new funding programmes.
Catherine Spencer, Chief Executive, Cochrane said:
"Cochrane is evolving. Gavin's experience and knowledge in both development and programme management will help him develop worthwhile business and funding opportunities. His extensive experience of senior management will serve him well as a member of our Executive Leadership Team and leading a large multi-function team."
Commenting on his appointment, Gavin stated:
"I am hugely excited about this opportunity to work with Cochrane. A key function of this role will be to ensure Cochrane continues to deliver its vital work, ensuring a sustainable and successful future and I look forward to bringing my experience to this role."

9 August 2022