Cochrane is beginning a 12-month project to standardize and simplify its Plain Language Summaries
Plain Language Summaries (PLSs) are the key dissemination product for each Cochrane Review. They are freely available on Cochrane.org and on the Cochrane Library, and often are the first point of contact health decision-makers have with Cochrane and our health evidence. A Cochrane PLS is also the one summary that is most frequently translated into other languages. 
Currently, PLSs are written by Cochrane Review authors or Cochrane Review Group (CRG) editorial teams, and, while there are some existing resources that provide general guidelines for writing them, a standardized approach to writing PLSs is needed. Feedback from translation teams and external research work suggests that PLSs could be improved in order to make Cochrane evidence more useful to consumers, the public, practitioners, policymakers, researchers and funders. The 12-month PLS project, being run in the Editorial and Methods and Knowledge Translation Departments and in partnership with two Cochrane Networks, aims to improve the quality, consistency, and translatability of PLSs, and inform a set of guidance to support PLS writing moving forward. This will lead to greater understandability of Cochrane evidence, thus making Cochrane Reviews more accessible to decision-makers.
Cochrane has hired a small team of professional science writers to write PLSs. The writers will work closely with Cochrane's Editorial Service, plus two Cochrane Networks (made up of 14 CRGs), writing PLSs for new and high-profile reviews and updates, including those on COVID-19. In addition to writing new and updated review PLSs, the writers will also develop one or more PLS templates together with guidance to enable CRGs to produce PLSs in the future. Finally, through working with Cochrane's Editorial and Methods Department and CRGs, they will make recommendations for how PLSs could be managed in the future. Throughout the process, they will work to customize PLSs to the needs of end-users of Cochrane evidence.
A high-calibre team of PLS writers has been hired for this project.
Denise Mitchell began working with Cochrane in 2013 as Editorial Assistant at Cochrane Wounds, then as Support Officer to the Managing Editors' and Information Specialists' Executives, and she was a member of the Community Support Team for two years from its inception in 2018. Denise has worked as a Cochrane copy editor since 2015. "Now, more than ever, Cochrane evidence is really important. This project is a great opportunity to help frame Cochrane evidence for a non-expert audience, so that it is clear and easy to understand; but also, so that it will be a concise, yet comprehensive, reliable and useful resource for all Cochrane's readers, both expert and non-expert."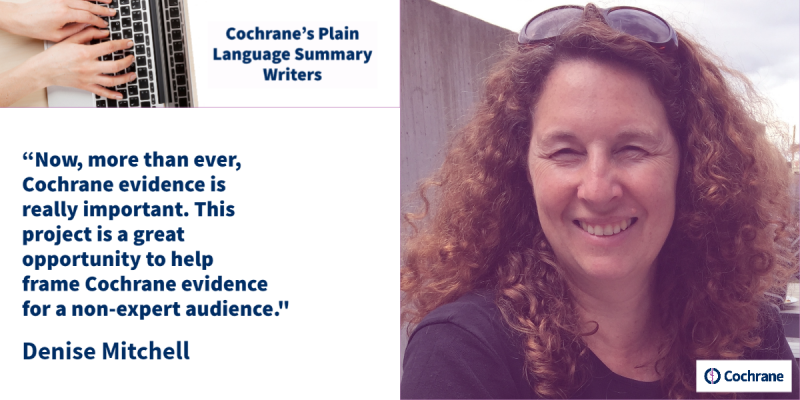 Nicole Pitcher worked as the Senior Research and Dissemination Fellow at Cochrane France. She holds a PhD in epidemiology and has experience in conducting systematic reviews, translating Cochrane Plain Language Summaries, and communicating research findings to non-researchers. Nicole is really looking forward to using this experience to make Cochrane PLSs as accessible as possible. "Three days into this new post, and I can already see how much potential there is for Denise, Carolyn and I, and the wider project team, to make a difference. Jargon, beware – your days within Cochrane are numbered!"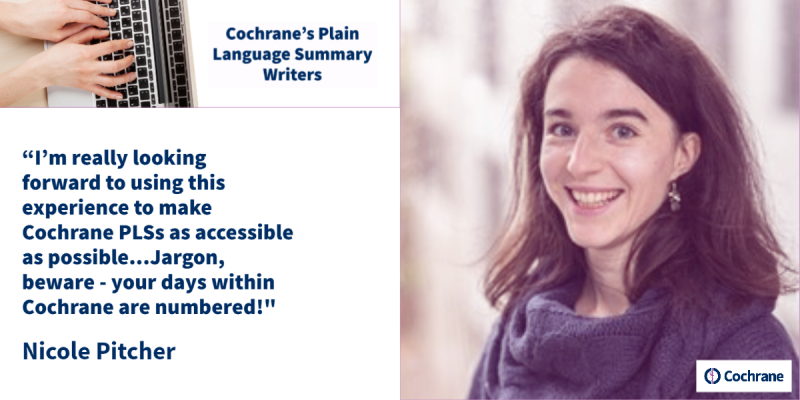 Carolyn Hughes is an experienced scientific writer and editor with over 25 years of working in different scientific and healthcare environments, including the All Wales Therapeutics & Toxicology Centre, where she produced a Plain Language Guide and a Style Guide to support her work, and NICE. She has written and edited health technology assessments (HTA) appraising new medicines, as well as reports and guidelines for the NHS Wales Medicines Optimization Team. Carolyn has already worked as a consumer author for one Cochrane Review Group, and, as part of this, wrote the first drafts of PLS for five Cochrane Reviews. "I'm passionate about quality and clarity in scientific and medical information. I want to help make Cochrane reviews more accessible to everyone through plain language summaries."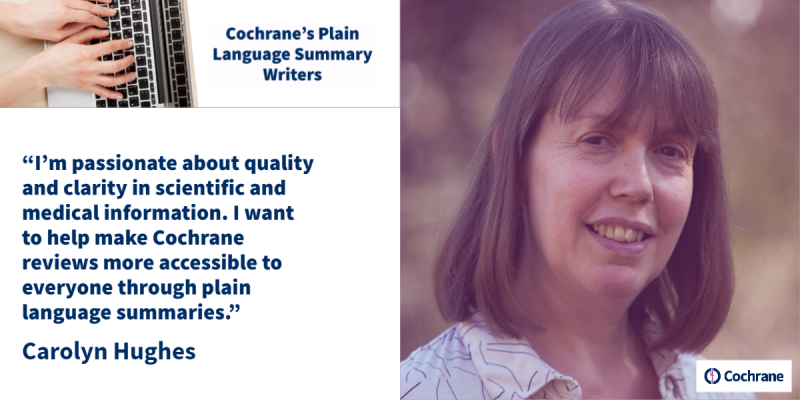 The Cochrane Library's Deputy Editor in Chief and Project Co-Sponsor, Toby Lasserson, is enthusiastic about how this project will improve the accessibility and dissemination of Cochrane evidence. "Cochrane PLSs are often the first point of contact for all types of users of Cochrane evidence. We are eager to work with this excellent writing team to make PLSs easier to understand, absorb, and use, as this will lead to greater dissemination of Cochrane evidence."
Building on the work Cochrane Norway conducted in 2016-2017, the PLS Project will include monitoring and evaluation, to establish whether the new PLSs are: easier to translate; more consistent and understandable for end users; and of improved quality.
May 18, 2020