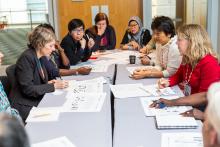 The deadline for submitting workshops, presentations, and posters has been kept open till midnight on Monday 5 March (UTC). There's still time to submit your abstract, to be a part of the 25th Cochrane Colloquium.  
The 2018 Colloquium will be held in Edinburgh at the International Conference Centre in Scotland from 16-18 September 2018. It will hosted by Cochrane UK and is expected to attract up to 1200 delegates.  
The theme of the event is 'Cochrane for all – better evidence for better health decisions' and we invite submissions on the sub-themes of:
    Producing evidence
    Making evidence accessible
    Advocating for evidence
The Colloquium will be a Patients Included event. As such, we ask that all abstracts consider their impact on, and relevance to, patients and other healthcare consumers. We particularly welcome abstracts that are co-designed, co-produced and/or co-presented with patients or other healthcare consumers.  
View the call for abstracts here: colloquium.cochrane.org/call-abstracts  
View the call for workshops here: colloquium.cochrane.org/call-workshops
1 March 2018